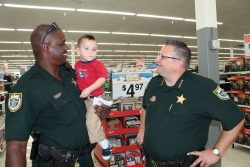 The purpose of the Brevard County Sheriff's Office Charity, Inc./Police Athletic/Activties League is to foster strong relationships between the Sheriff's Office and the children of Brevard County by providing academic, athletic, and community service activities during high juvenile crime periods of after school, weekends, and during school breaks.
About BCSO PAL
Brevard County PAL was created in 1997. PAL offers structured and personal guidance to youth and is a crime prevention program utilizing educational, athletic and recreational activities to create trust and understanding between Deputy Sheriffs and youth in our community. It is based on the conviction that young people – if they are reached early enough – will develop strong positive attitudes towards law enforcement officers.
Brevard County PAL is affiliated with the State Florida PAL Program. PAL was originated in the 1910's by the New York City Police
Department when they had the insight to offer inner-city youth some positive experiences with law enforcement.
Brevard County PAL is a volunteer-driven non-profit organization with a volunteer Board of Directors, and an Executive Director that handles the day-to-day operations of the organization.
For more information on the PAL programs offered contact the PAL Program Leader Kara Dejose, kara@bcsocharity.org
---
Sheriff's Explorer Unit
Law Enforcement Career Exploring is open to young men and women ages 14 and not yet 21 years old who have completed at least the 8th
grade with an interest in learning more about careers in the field of Law Enforcement.
Law Enforcement Exploring provides educational training programs for young adults on the purposes, mission, and objectives of law enforcement. The program provides career orientation experiences, leadership opportunities, and community service activities. the primary goals of the program are to help young adults choose a career path within law enforcement and to challenge them to become responsible citizens of their communities and the nation. For more information on the Explorer program contact the Cpl. Miguel Melendez or Ashley Mancini at 321-264-7755 or email Miguel.Melendez@bcso.us or ashley.mancini@bcso.us