NR 17-06 Sheriff's Office Announces Public Information Officer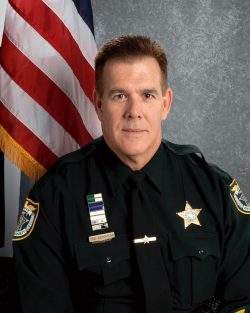 The Brevard County Sheriff's Office is pleased to announce that Tod Goodyear will be the agency's Public Information Officer. Tod had retired in 2016, after serving the agency for 30 years. The majority of his time with the agency was spent in investigations, the last 15 years as a supervisor in Criminal Investigative Services, where he retired as a Commander.
In his new position as PIO, Tod will coordinate agency communications with the media regarding operations, programs and events. He will be responsible for disseminating information regarding the Sheriff's Office to the public, media, and organizations. Tod will also act as liaison between the media and the Sheriff's Office, fielding all requests for information and interviews.
Sheriff Wayne Ivey stated, "The Sheriff's Office has enjoyed a tremendous working relationship with our media partners and the addition of Tod Goodyear as PIO will only enhance this partnership. Tod has many years of experience and is well respected in the media community, please join us in welcoming him back to the Sheriff's Office."
Brevard County Sheriff's Office PIO Tod Goodyear can be contacted at 321-501- 7594 or tod.goodyear@bcso.us