NR 20-17 Palm Bay Woman Arrested for Solicitation to Commit 1st Degree Murder
September 4, 2020 - 9:03 am
Category: Arrests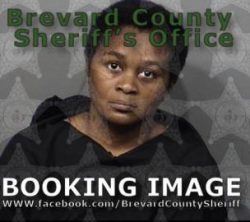 The Brevard County Sheriff's Office with the assistance of the Bureau of Alcohol Tobacco and Firearms has arrested 33-year-old Ashley Spencer of Palm Bay for allegedly attempting to hire a person to murder the woman who had an affair with her husband. Spencer was arrested after an arrest warrant was issued by the Honorable Judge Charles Crawford charging Spencer with Solicitation to Commit 1st Degree Murder and Solicitation to Commit Occupied Burglary with Battery. Spencer was taken to the Brevard County Jail prior to being transferred to another county's facility where she is being held on a No Bond status.
The investigation began August 29, 2020, after the Sheriff's Office received information from a concerned citizen who advised that a person wanted to harm a Brevard County Sheriff's Office Correctional Deputy. The citizen advised they were contacted by the suspect, Ashley Spencer, who asked if the citizen knew of any felons that would do a "job" for her. Spencer went on to tell the citizen she had a gun and wanted to harm a female Corrections Deputy and her child.
A telephone call then occurred between the citizen and Spencer that was monitored by Agents from the South Precinct General Crimes Unit. During the telephone conversation, the citizen told Spencer she had a person that could help her, but they wanted to know what the "job" was. Spencer advised that the intended victim had an affair with her husband that produced a child. Spencer wanted the person to break into the intended victim's house and tie up any persons inside so that she could harm them.
A meeting then occurred between Spencer and an undercover agent from the Bureau of Alcohol Tobacco and Firearms on September 2, 2020. During the meeting Spencer stated that she wanted the two of them to break into the intended victim's residence and tie up anyone inside. Spencer stated that she would bring her .38 caliber revolver and shoot the intended victim. Spencer agreed to pay the undercover agent $2,000.00 to assist in her stated intentions.
Spencer provided details of an alibi she had created in an effort to appear she was out of town during the shooting. She also advised she would give the undercover agent the gun after the shooting. Spencer stated to the undercover agent that Spencer and her husband, a former Corrections Deputy at the Brevard County Jail who resigned from his position in August 2020, have been trying to conceive a child, specifically a boy, and she discovered that the intended victim was able to provide her husband with a baby boy.
Spencer was arrested yesterday afternoon at her place of employment without incident.
Any persons who may have information in reference to this investigation is asked to contact Agent Chris Caporizzo of the South Precinct General Crimes Unit at 321-253-6683.
For additional information concerning this News Release, please call PIO Tod Goodyear of the Brevard County Sheriff's Office at 321-501-7594.