Volunteers are needed by the Sheriff's Office to perform a variety of tasks and assignments. The use of Volunteers allows the Sheriff's Office to improve services and operate more efficiently. Volunteers are needed in Law Enforcement, Corrections and Administrative services.
As a Sheriff's Office Volunteer you will meet interesting people, perform important assignments, and contribute back to your community. We can find you a work location convenient to your home, and various work hours are available. If you are a Student wishing to start a career volunteering provides you valuable hands-on experience for your resume.
Due to the nature of the work Volunteers will be subjected to a background check and other screenings.
Please consider serving as a Volunteer for your Sheriff's Office! You can contact us at any of the Precincts or the Personnel office in Titusville.
Volunteer programs that the Sheriff's Office is proud to have are the Reserve Unit, the Police Explorer Program and Citizens Observer Patrol.
If you'd like to become a volunteer, visit our Volunteer Opportunities webpage for information of how to apply.
Reserve & Auxiliary Unit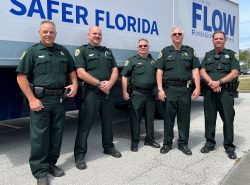 The Reserve Deputy Program is a volunteer, uniformed Sheriff's Office support organization open to all persons age 20 and older. The Reserves function to provide support personnel for the routine law enforcement activities and to enhance public service to the Sheriff's Office. Reserves work with regular deputies in various assignments and independently as a part-time deputy performing duties as assigned. The Reserves have commissioned and sworn full law enforcement powers equal to those of a Deputy. The Reserves alleviate pressure from the Deputies and strive to assist whenever they are needed. Each Reserve must serve a minimum of 20 hours each month on assigned duties, including a mandatory monthly training meeting. The Brevard County Sheriff's Office takes pride in the civic spirit and willingness to serve displayed by its Reserve Deputies. Volunteer Opportunities
Mounted Posse
The Brevard County Sheriff's Office is looking for volunteers interested in joining the newly created Civilian Mounted Posse. The Civilian Mounted Posse will work in conjunction with the Sheriff's
Office Mounted Patrol Unit assisting in community related events and on occasion operational issues such as missing persons. Volunteers must be 18 years or older, own a horse and are able to provide transportation to and from training, events and call-outs. All candidates will be required to successfully complete an application, interview and background process. Once selected, volunteers will submit a Horse information sheet and attend a basic training evaluation course which will include obstacles, search techniques and team formations. If you'd like to become a member of the volunteer Mounted Posse, visit our Volunteer Opportunities webpage for information of how to apply.
Citizens Observer Patrol
The C.O.P. Program, standing for "Citizens Observer Patrol", is designed to assist deputies in combating crime throughout the county. COP volunteers patrol the unincorporated areas of the county (and incorporated areas served by the Sheriff) in specially marked Sheriff Office vehicles. They help deter crime and act as an extra set of eyes and ears for the law enforcement community. COP volunteers work in uniform and have specialized training but they do not carry firearms and have no police powers.
If a citizen wants to volunteer, but does not have a desire to "patrol" the streets, the C.O.P. Program is still the right program for them. Sheriff's Office C.O.P.
volunteers can also serve in office and administrative assignments throughout the agency performing a variety of important tasks. In addition, C.O.P. volunteers are welcome to work in any precincts or administrative office countywide….from Scottsmoor to Micco.For additional information about the C.O.P. program, please contact the Volunteer Coordinator at (321) 454-6643.
If you'd like to become a volunteer, visit our Volunteer Opportunities webpage for information of how to apply.
Animal Services
Become an Animal Services Volunteer
Animal Services is dedicated to serving and protecting the public and promoting a safer community through responsible animal ownership and humane care. The Animal Service volunteer program gives you the opportunity to help animals in the care of Brevard County Animal Services shelters. How can you help?
Dog walking is a great opportunity to spend time with the adoptable dogs and get them exercise and socialization.
Animal care assistants help with general cleaning of animal living areas as well as laundry and dishes.
Clerical assistants will provide assistance to the Animal Services staff with general office operations.
Event volunteers and transporters assist at the many adoption events held by Animal Services.
We also have the need for volunteers with a special interest in photography.
Volunteers Needed at: 5100 West Eau Gallie Road, Melbourne
You must be 18 years or older and be able to commit to 12 hours of service per month. If you have any questions or would like more information on becoming a volunteer for Animal Services, contact the volunteer coordinator at 321-633-2024 or visit our Volunteer Opportunities webpage for information of how to apply.