NR 18-12 Sheriff's Deputy Killed in Traffic Crash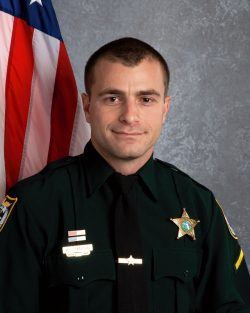 The Brevard County Sheriff's Office is deeply saddened to report that one of our deputies has died in the line of duty after being involved in a traffic crash early this morning. Field Training Officer Kevin Stanton died after his marked patrol vehicle was struck by a semi-truck on Interstate 95 in Titusville.
FTO Stanton was hired as a Deputy with the Brevard County Sheriff's Office on October 29, 2007 and has served with the agency for over 10 years. During his years of service, Kevin has received numerous letters of commendation, commendable service awards, and was nominated for a Life Saving Award.
The investigation of this accident is being conducted by the Florida Highway Patrol. For additional information regarding the accident investigation please contact Sergeant Kim Montes of the Florida Highway Patrol.
Updated information concerning the arrangements will be provided when available.
For additional information concerning this News Release, please call PIO Tod Goodyear of the Brevard County Sheriff's Office at 321-501-7594.