NR 18-13 Funeral Arrangements for Deputy Kevin Stanton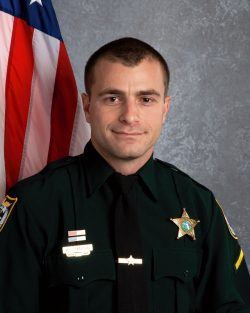 Funeral services honoring Deputy Kevin Stanton who died in the line of duty Saturday morning will be held on Friday, February 23, 2018, at 2:00 p.m. The services will be conducted at New Life Christian Fellowship Church located at 6755 South Washington Avenue, Titusville.
Immediately following the service, a procession will travel north on Washington Avenue (US 1) through the city of Titusville to Garden Street, where the procession will turn west traveling to Oaklawn Memorial Gardens located at 2116 Garden Street, Titusville. It is expected that traffic will be impacted along the route from approximately 3:15 – 4:00 p.m.
At the conclusion of the graveside ceremony at Oaklawn Memorial Gardens, a reception will be held at the American Police Hall of Fame, located at 6350 Horizon Drive, Titusville.
For additional information concerning this News Release, please call PIO Tod Goodyear of the Brevard County Sheriff's Office at 321-501-7594.