NR 18-34 Argument Leads To Attempted Murder Arrest
October 8, 2018 - 11:43 am
Category: Arrests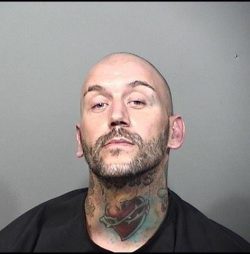 The Brevard County Sheriff's Office has arrested 37-year-old John Wolverton charging him with DUI, DUI with Serious Injury and Attempted Murder. Wolverton, who is homeless, and a registered Sex Offender, is currently incarcerated in the Brevard County Jail on a No Bond status.
The investigation began shortly before midnight on October 7, 2018, when deputies responded to the Circle K located at 6155 North Courtenay Parkway, Merritt Island, in reference to a disturbance. Deputies learned that prior to the call, Wolverton and the victim got into a physical altercation over a female. After the fight, the victim walked back to the area of the gas pumps as Wolverton entered the driver's seat of a pickup truck. Wolverton drove out onto the roadway, then circled back through the parking lot pointing the vehicle at the victim. The victim ran into a grassy area away from the pavement where Wolverton drove over a curb, striking the victim who was dragged under the vehicle for approximately twenty feet. Wolverton then drove away from the area at a high rate of speed. The victim was airlifted to a local hospital in critical condition.
Deputies in the West Precinct located Wolverton in Cocoa. Due to obvious signs of impairment Wolverton was arrested for DUI. He was subsequently charged with attempted murder upon the completion of the investigation at the Circle K.
Anyone who may have information about this incident is asked to please call Agent Philipp Urbanez of the Brevard County Sheriff's Office, East Precinct General Crimes Unit at 321-454-6640.
For additional information concerning this News Release, please call PIO Tod Goodyear of the Brevard County Sheriff's Office at 321-501-7594.