NR 21-14 2021 BCSO Awards Ceremony
BREVARD COUNTY SHERIFF'S OFFICE ANNOUNCES AGENCY AWARD RECIPIENTS
The Brevard County Sheriff's Office held their annual awards ceremony on Friday, March 26, 2021, recognizing the many achievements accomplished during 2020 by our sworn and civilian employees.  Also recognized were members of the community who had a profound impact in Brevard County during the year. 
Special Recognition Award
Information Technology Manager Bob Urie

Since joining the Brevard County Sheriff's Office in October of 2013, Information Technology Manager Bob Urie has displayed a sincere commitment to agency customer service, excellent technical knowledge, a dedicated work ethic, as well as the leadership skills to manage multiple projects to "get the job done."
Under Bob's direction and innovative leadership style, the Information Technology Unit has been able to accomplish major agency upgrades and complete a host of IT related projects which not only made our agency more efficient, but also resulted in significant financial savings to the taxpayers of Brevard County.   Some of these major upgrades include: implementing a suite of software which integrated Dispatch, the mobile terminals for patrol deputies, Corrections, and Records Management; installed an agency wide digital phone system, greatly expanded Wi-Fi infrastructure; cloud storage at a remote data storage location to provide protection of agency users' documents and files; installation of the jail complex Guardian RFID electronic inmate documentation system; security surveillance camera installation; implementation of a multi-agency server search to allow data sharing for other law enforcement agencies and implemented a disaster recovery site for critical IT systems.
Bob has also diligently worked to expand the Information Technology team from 8 to 20 members in order to accommodate the ever increasing demand for technology services. His vast knowledge and experience have also been pivotal in streamlining and protecting the agency from the never-ending threat of cyber security attacks. Throughout his tenure, Bob has made many significant technology improvements that have advanced the agency greatly, as well as build partnerships between the countywide law enforcement agencies.
Lucy Ross Award
Sergeant Marlon Buggs

 The Lucy Ross Award is presented to the Sheriff's Office employee who best exemplifies the outstanding qualities and spirit of our lost family member, Sergeant Lucille Ross.  Throughout her career, Lucy demonstrated an unwavering dedication to community service and excellence in her profession.  Lucy was a genuinely compassionate person who never hesitated to assist others in need regardless of the situation.  Her talents really became obvious when she was helping crime victims and their families.  Lucy's high level of caring was probably the reason children loved her so much.
This award recognizes the Sheriff's Office family member, who throughout their career, has best honored Lucy's memory by the consistent demonstration of these same qualities.
In 1994, Marlon Buggs became a full-time Deputy Sheriff and it quickly became apparent that he had a passion and drive for helping others.  Early in his career, while assigned to the Community Policing Unit, he and other unit members saw a need to serve underprivileged children during the summer months and created Camp Chance.  A program where kids spend the day at the Sheriff's Office Lake with law enforcement officers engaged in mentorship and camp activities.
During his assignment in the Special Victims Unit, Marlon began volunteering his time as a guest speaker for the Prosecution Alternatives for Youth Diversion Program sponsored by the State Attorney's Office that offers youthful offenders an alternative to being prosecuted.
Marlon also volunteered with the Brevard County Weed & Seed program to implement a community-based strategy to "Weed" out violence and drugs, and "Seed" with educational, social, and economic development throughout the Brevard County community.  One such "Seeding" program is the Project Safe Neighborhoods Annual Youth Crime Prevention Summit, where young people are given the opportunity to receive information about law enforcement, public safety, social skills, and community involvement.  Marlon has been volunteering since 2006 and currently serves on the Board of Directors for the Alliance for Neighborhood Restoration.
Marlon has also served on the Board of Directors for the Space Coast Marine Institute, now known as AMIKids, which is a nonprofit, residential facility in Melbourne, serving youths who have committed criminal offenses.  As a member of the Board, Marlon provided direction on staffing and program development that assists these troubled youths to gain the needed skills to return to their families.
Marlon has also been an active participant in the annual St. Baldrick's Foundation head shaving event for over 7 years, a charitable event committed to supporting the most promising research to find cures for childhood cancers.  Marlon has participated or has been a team captain for the BCSO raising over $25,000 for the charity by himself as well as being an integral part of the team that has raised nearly $150,000.
Volunteer of the Year
Brevard County Fire Rescue District Chief Tom Neidert

Although the COVID-19 crisis kept many volunteers at home during 2020, Tom Neidert continued to volunteer, providing assistance to the BCSO and many other charitable groups, all while maintaining his full-time position with Brevard County Fire Rescue.  Tom serves as a member of the Board of Directors for the Brevard County Public Safety Charity which is a not-for-profit organization created to help Brevard County Public Safety Officers and their families during difficult hardships.
During 2020, Tom also coordinated the 10th annual St Baldrick's Foundation event to raise money in an effort to conquer childhood cancers and the "Real Men Wear Pink" program which helps the American Cancer Society combat breast cancer.  Additionally, Tom founded the Brevard non-profit Caribbean Fire Rescue Benevolent Association, which coordinated equipment donations for Hurricane Dorian ravaged areas of the Bahamas.  Tom helped locate, collect and distribute equipment including a brush truck and fire engine, an ambulance, 100 sets of fire gear and 50 air-packs, to the Bahamian islands.
In 2020, Tom was also instrumental in assisting with the 5th Annual Brevard County Sheriff's Office Haunted Jail Trail, which continues to be a Halloween tradition for Brevard County and central Florida residents.   This one-of-a-kind event is held over 5 nights with all proceeds benefiting local charities.   Each year Tom brings more and more energy and enthusiasm to the Haunted Jail Trail and can be counted upon to provide many hours of hard work during the event.
Citizen of the Year
Pastor Jarvis Wash

The Citizen of the Year Award recognizes a member of the community who has provided outstanding service and commitment to the citizens of Brevard County and for continued support of the Brevard County Sheriff's Office. One man, who long ago decided to use the adverse experiences in his own upbringing to renegotiate his purpose – one based on serving, is giving back to the disadvantaged in his community by helping them to create better futures for themselves.
Motivated by the tragic and violent death of his son Brandon in 2004, Pastor Jarvis Wash, an impassioned community leader, visionary, and trusted friend, founded the R.E.A.L. Church, with the mission of Reaching, Equipping, and Affecting Lives for Christ.  Pastor Wash was born in Oakland, CA.  His mother and father were both involved in a life of crime, ill-equipped for the responsibilities of raising a child.  This unscrupulous upbringing, marred by criminal activity, could have determined Wash's fate.  Instead, he used the adverse urban experiences of Oakland to achieve his goal in helping others.  His current desire is to not only win souls to Christ, but to simultaneously assist others with positive personal growth and empowerment, such as identifying job opportunities and resources, as well as continuing education.
Through The R.E.A.L. Church's non-profit organization, My Community Cares, Inc., Pastor Wash has led the community through a series of outreach initiatives heavily focused on crime prevention.  The primary focus of My Community Cares, Inc. is caring for and establishing pride within our communities.   Pastor Wash has a strong passion for protecting families, reducing crime and supporting at-risk youth.  His approach to community engagement has netted him a reputation for being ever vigilant.  It is often stated that he not only pastors The R.E.A.L. Church, but he pastors the community as well.  It is with great pleasure that we honor Pastor Jarvis Wash as the Brevard County Sheriff's Office, "Citizen of the Year."
Reserve Deputy of the Year
Commander Ken Willis

Commander Ken Willis has been serving as a Reserve Deputy with the Brevard County Sheriff's Office for more than 38 years.  Even though he was working a full-time job in the corporate world, Ken felt it necessary to volunteer his time with the Brevard County Sheriff's Office.  At the time he initially joined the Reserve Unit, the unit consisted of only a few deputies.
Ken has consistently elevated through the ranks of the Reserve Unit and in 2004 he was promoted to the position of commander over the unit.  The unit had grown to almost 40 deputies when Ken took over command.  At that time, the unit was donating approximately 10,000 hours of law enforcement service each year to the citizens of Brevard County.  In 2012, after Sheriff Ivey took office, and under Ken's guidance, the unit has grown to approximately 70 working deputies, who are contributing approximately 25,000 hours of law enforcement service each year to the citizens of Brevard County.
Over Ken's many years of dedicated service, he has also held several certifications; to include FTO, airboat, riverboat and ATV operator.  His skills and talents have allowed him to serve in many of the specialized units within the Agency, such as the Ag/Marine Unit and the Mounted Posse.  He has served the citizens of Brevard County with integrity and professionalism as shown by the numerous commendations and awards that he has received throughout his tenure.
For his more than 38 years of dedicated service and leadership to the Brevard County Sheriff's Office Reserve Deputy Unit, it is our honor to recognize Commander Ken Willis as the 2020 Brevard County Sheriff's Office Reserve Deputy of the Year.
Communications Officer of the Year
Shift Supervisor Monica Mahl

 Monica Mahl joined the BCSO Communication Center in October of 2012 and during her tenure, has trained many Public Safety Telecommunicators along with receiving numerous Commendable Service Awards.  In just three short years after being hired, Monica excelled and was promoted to Assistant Shift Supervisor and recently received a promotion to Shift Supervisor, where she continues to focus on training and mentoring new hires.  Monica participated in multiple high-priority calls throughout the year, demonstrating her commitment to excellence during each one.
In March of 2020, Monica answered a call for an armed robbery in which a vehicle was stolen by the suspect. The caller stated that they were still in shock and Monica was able to quickly obtain vital information about the armed suspect and the victim's vehicle description.   That same day, Monica led her squad as they handled emergency radio traffic during the pursuit of the same suspect vehicle with shots fired.  Ultimately, the stolen vehicle was recovered and the suspect was apprehended.
In May of 2020, Monica was nominated for Communications Officer of the Month for her handling of an armed domestic disturbance call in which the husband had made suicide threats the previous day and was now firing his gun inside the residence.  When the husband fled in a vehicle on State Road 528 from Merritt Island, Monica handled nearly all radio traffic involving deputies from both West and North Precincts.  She also completed a radio patch with East primary and countywide radio channels.  When the vehicle entered neighboring Volusia County, she continued to relay vital information from the BCSO Aviation Unit (STAR) to the Volusia County Sheriff's Office dispatch for their responding deputies.
As STAR continued tracking the vehicle, Monica continued documenting and relaying pertinent radio traffic.  The call concluded with the vehicle and occupants being taken into custody in Edgewater, Florida.
Monica Mahl is considered one of the best in the business; she is committed to excellence and possesses a sincere desire for service to the citizens of Brevard and the entire law enforcement community.  We are proud to recognized Monica Mahl as our 2020 Communications Officer of the Year.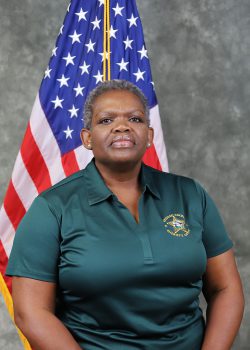 Employee of the Year
Domestic Violence Advocate Peggy Brooks

Victims of Domestic Violence can feel lost and confused, having many times endured years of emotional and physical injury from their abusers.  Domestic Violence advocates provide a service that assists and guides the victim to resources that can allow them to gain the courage to break away from their abuser and once again become self-sufficient.  Our employee of the year is being recognized for not only her assistance to a victim of abuse, but also her tenacity in making sure that justice was gained for the victim.  Her determination to have investigators reopen a closed case led to the development of new evidence needed to successfully prosecute this offender.
During November of 2019, Victim Advocate Brooks was contacted by a domestic violence victim who was referred by the State Attorney's Office.  Over the next several months, Peggy would assist this victim through multiple injunction hearings, and counsel the victim as she was continually terrorized by the suspect with acts of criminal mischief, disconnection of utilities and threats of violence.  All of these acts were accomplished without leaving the evidence in any one incident to be charged.
Peggy assisted the victim by helping her with setting up a life away from the abuser and providing unending support as she went through the recovery process.
Peggy also asked for investigative assistance in reopening the victim's case after finding that it had been closed due to lack of evidence.  By providing additional information and working with the Special Victim's Unit, the case was investigated further, which ultimately led to the arrest of the suspect for Domestic Violence Strangulation, False Imprisonment and Tampering with a witness.  For her commitment and tenacity that allowed this victim to free herself from this abusive relationship, we are proud to recognize Peggy Brooks as our 2020 Employee of the Year.
Corrections Deputy of the Year
Corporal Mike Nettles

Corrections Corporal Michael Nettles exemplified the tenets of professionalism, dedication and teamwork by his actions and testimony which were instrumental in the conviction of a Palm Beach County man for two brutal murders in Greenacres, Florida.  Corporal Nettles was assigned to provide hospital security for an inmate for a three-week period while the inmate was incarcerated at a local hospital.  During this time, the inmate began initiating conversations with Corporal Nettles, who used his interpersonal skills to build a rapport with the inmate.  The inmate willingly began divulging specific details of his crimes by providing the locations and his motives to Corporal Nettles.  The details provided were so heinous in nature, Corporal Nettles began to meticulously document the information.  Specific details about two homicides, a felony battery, the robbery of an elderly woman, and a false imprisonment case which had been under investigation by the Greenacres Police Department in Palm Beach County, Florida.  At the conclusion of his hospital stay, Corporal Nettles submitted an in-depth case report regarding the information provided by the inmate to the Palm Beach County Sheriff's Office, the Greenacres Police Department, and the Palm Beach County State Attorney's Office.
On December 17, 2019, Corporal Nettles testified in Palm Beach County about the confessions the inmate had provided during his hospital stay.   With clarity, Corporal Nettles relayed to the jury the specific descriptions and accounts to which only the perpetrator would have knowledge.  As later expressed by the Palm Beach County State Attorney's Office, Corporal Nettles' notes were the greatest contributing factor to the inmate receiving convictions of his crimes.  Corporal Nettles displayed the highest level of professionalism, dedication, and commitment to bringing an extremely violent and dangerous criminal to justice. He was instrumental in the conviction of this inmate who received two life sentences for these heinous crimes. Corporal Nettles' actions ensured the victim's families received the closure they deserved and we are proud to name him our 2020 Corrections Deputy of the Year.
Deputy of the Year
Sergeant Chris Ferrante

In March of 2020, West Precinct deputies responded to an armed carjacking in the county jurisdiction of Cocoa.  A description of the vehicle and suspect was broadcast, which led to the vehicle being observed at a local convenience store several hours later.  As a deputy approached, the driver exited the store and refused commands to stop, fleeing in the vehicle at a high rate of speed.  The same vehicle was observed on multiple occasions and the BCSO Aviation Unit was able get into a position to surveil the vehicle.  The vehicle traveled through the city of Rockledge and Cocoa until travelling east on State Road 520 toward Merritt Island.  As the vehicle cleared the H & H Bridge, Deputy Matthew Rush was able to deploy stop sticks, successfully striking both driver's side tires.  The suspect continued driving until abandoning the vehicle in front of a convenience store located at State Road 520 and North Tropical Trail.
As the suspect ran into the store parking lot, Sergeant Chris Ferrante arrived on scene and was able to position his agency SUV to block the suspect's avenue of escape.   The suspect entered a vehicle that was parked at the gas pumps, however seeing his route to escape was blocked, again took flight on foot toward the intersection.  As the suspect was fleeing, Corporal Gary Haas observed a firearm in his hands and announced on the radio that the suspect was armed.  The suspect began running up to cars that were stopped in the intersection, attempting to force his way into their vehicles with Sergeant Ferrante and Corporal Haas pursuing on foot.  Knowing that the suspect was armed, and fearing for the safety of the citizens stopped at the traffic light, Sergeant Ferrante was able to take a position that would enable him to address and neutralize the imminent threat to the community.   Sergeant Ferrante used a break in the flow of traffic, and his position of advantage to discharge his firearm, striking the suspect and eliminating the potential for further violence.  The actions of Sergeant Ferrante neutralized the suspect and stopped an armed felon.
We are proud to name Sergeant Chris Ferrante as our 2020 Deputy of the Year.
For additional information concerning this News Release, please call PIO Tod Goodyear of the Brevard County Sheriff's Office at 321-501-7594.