NR 21-16 Missing Juvenile
April 14, 2021 - 4:56 pm
Category: Alerts
 MISSING JUVENILE – MARIA IMUL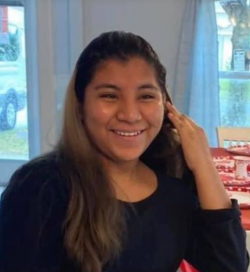 Age: 16
Height: 5'2"
Weight: 126lbs
Eyes: Brown    (lazy eye – left)
Hair: Brown w/blond highlights
Clothing:  Black pants, gray sweat shirt with school logo, brown knee-high boots, and a red and black backpack.
The Brevard County Sheriff's Office is continuing the investigation of a missing juvenile who walked away from school on April 7, 2021.  16-year-old, Maria Perez Imul, was born in Guatemala and was living in Brevard County at the time she went missing.  Maria left on foot from Pinecrest Academy, located at 7550 Stadium Parkway in Melbourne, where she was attending school the day she went missing. School officials immediately notified the Sheriff's Office who initiated an investigation.
Agents have coordinated efforts with the school, the juvenile's foster care and multiple local, state and federal agencies in an effort to locate her.  Agents have used numerous investigative resources including interviews, video recordings and an interpreter to gather information from sources connected to her.  It is unknown at this time what Maria's motivation for leaving the school property was, however, all investigative inquiries to date indicate that Maria left voluntarily and of her own accord.
Maria is believed to have ties to South Florida, specifically in Fort Myers and Miami. Maria primarily speaks Spanish with limited English familiarity. Throughout the course of this investigation there has been no evidence or any other information that would give reason to suspect foul play is associated with Maria's missing status.  The investigative information developed does not meet the state's criteria for an Amber or Missing Child Alert.
Anyone with any information related to this case is asked to call Agent Shelton of the West Precinct General Crimes Unit at 321-617-7306 / Comm. Center 321-633-7162, or local law enforcement.