NR 22-07 Arrest made in Cocoa shooting death
February 27, 2022 - 7:51 am
Category: Arrests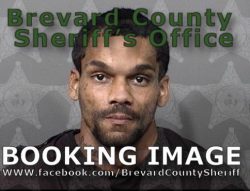 The Brevard County Sheriff's Office has arrested 26-year-old Kendall Britt of Cocoa for death of Anthony Greenwood on January 18, 2022, in Unincorporated Cocoa.  Britt was arrested at the Brevard County Jail Complex, where he was already incarcerated on unrelated occupied burglary case.  An arrest warrant was issued by Judge Jennifer Taylor charging him with First Degree Premeditated Murder.  Britt is currently being held on a No Bond status.
The investigation began when deputies responded to a residence on Uranus Drive at approximately 9:18 a.m., on January 18, 2022, after an emergency 911 call was received advising a person had been shot in the residence. Upon arrival, deputies located Greenwood who was pronounced deceased at the scene.  Based on evidence collected at the scene and statements gathered during the investigation, agents believe that the shooting occurred as retaliation for a prior incident where Greenwood battered an associate of Britt.
Anyone who may have information about this death investigation is asked to please call Agent Bruce Connors of the Brevard County Sheriff's Office Homicide Unit at 321-633-8413  or CRIMELINE at 1-800-423-TIPS (8477). All calls to CRIMELINE are confidential and callers can remain anonymous and be eligible for a reward.
For additional information concerning this News Release, please call PIO Tod Goodyear of the Brevard County Sheriff's Office at 321-501-7594.