NR 22-12 Brevard County Sheriff's Office Announces Agency Award Recipients
The Brevard County Sheriff's Office held their annual awards ceremony on Friday, April 1, 2022, recognizing the many achievements accomplished during 2020 by our sworn and civilian employees.  Also recognized were members of the community who had a profound impact in Brevard County during the year. 
Partnership Award
Cindy Johnson
 Patrol K-9's have become an integral part of our agency.  These K-9 partners detect substances, search for suspects and missing persons and apprehend violent subjects, decreasing the chance of deputy injury during a physical confrontation.  K-9's face the same risk of injury as their human partner and as such, wear protective vests that are heavy and shorten the amount of time the K-9 can work without rest during critical and dangerous incidents.
A generous donation by Cindy Johnson of the Merritt Island Surgery Center has provided state of the art, ballistic vests, for our K-9 unit.  Originally, Cindy had saved money for a vacation, however due to travel restrictions faced during the Covid-19 pandemic, Cindy decided to use that money to assist the K-9 unit after learning of the limitations of the older vests.
Using her own money, along with donations from the Brevard Ear, Nose, and Throat Center and Space Coast Orthopedic, new ballistic vests were purchased for the unit.  These vests are lightweight and designed to be worn throughout the entire shift while still offering the same level of ballistic protection for our K-9 partners.
She could not have known that these vests would save the life of a K-9 under an entirely different set of circumstances.  During a building search of a residential burglary, a K-9 was sent in to search for a possible suspect.  When the K-9 did not return, the handler entered, finding that the rear door was open to the screen porch and the K-9 had fallen into the pool.  The K-9 was struggling to tread water as he was pulled to safety.   Due to the buoyancy of the vest, the canine stayed near the surface allowing the handler to quickly locate and rescue him.  It is quite likely that if the K-9 had been wearing the old vest, the weight would have taken him under, making the rescue much more difficult, possibly leading to a tragic outcome.
The Sheriff's Office would like to thank Cindy for her passion to protect those who protect us.  We would also like to thank those medical facilities that partnered with Cindy making this purchase become reality.  For her support of our K-9 unit and our agency, we are recognizing Cindy Johnson with our Partnership Award.
Specia
l Recognition Award
Corporal Jennifer Straight
Corporal Jennifer Straight was hired by our agency in August of 2005. Over the past 16 ½ years Corporal Straight has had a distinguished service history serving this agency in a variety of roles to include uniform patrol, investigative assignments in General Crimes, Special Investigations, Sex Crimes, and Homicide.
On May 29th, 2021, Corporal Straight was assigned to the Brevard County Sheriff's Office Animal Services Unit with a focus on conducting criminal investigations involving the abuse of animals. Since taking on this new role, Corporal Straight has once again demonstrated her tenacity to grasp, understand, and immediately elevate the position she holds within the unit.
Within days of being assigned to the unit, Corporal Straight conducted several criminal investigations regarding the abuse of animals. Given her previous investigative experience, Corporal Straight easily navigated these complex investigations and was able to make several arrests, allowing the courts the opportunity to hold the suspects accountable.
With her reputation and credibility throughout the community, Corporal Straight maintains professional relationships with animal enforcement officers, veterinarians, deputies, prosecutors, and judges, seamlessly and without the need of oversight. In addition, her ability to understand the nuances associated with conducting criminal animal investigations is remarkable.
During this short period of time, Corporal Straight's ability to foster positive relationships has enabled her to forge stronger bonds with a wide range of outside entities. In particular, Corporal Straight has secured a level of corporation with the State Attorney's Office far surpassing previous levels. Additionally, Corporal Straight has established a strong relationship with the University of Florida, College of Veterinary Medicine, at Gainesville who performs the forensic examinations involving our criminal cases.
Recently, both the Animal Enforcement Officers' supervisors went out on extended medical leave. Given Corporal Straight's all-around abilities and the need to monitor between 40-50 Animal Services' calls a day, Corporal Straight was assigned additional duties assisting in the oversight of our Animal Enforcement Officers and has performed in an exemplary fashion.
And if she wasn't busy enough… Corporal Straight co-wrote legislation that strengthens and enhances punishment for criminals who abuse animals in the State of Florida. This bill, SB 420, passed into law unanimously. For those of us that are familiar with the process, this is a tremendous feat that required patience and perseverance.
In summary, Corporal Straight has elevated the Animal Services Unit to a higher level. Her self-motivation, work ethic, and willingness to always help, has served as a shining example for others to follow.
Lucy Ross Award
Corporal Vicki Sumlin
 The Lucy Ross Award is presented to the Sheriff's Office employee who best exemplifies the outstanding qualities and spirit of our lost family member, Sergeant Lucille Ross.  Throughout her career, Lucy demonstrated an unwavering dedication to community service and excellence in her profession.  Lucy was a genuinely compassionate person who never hesitated to assist others in need regardless of the situation.  Her talents really became obvious when she was helping crime victims and their families.  Despite the rigors and demands of her work, Lucy could always be counted on to arrive with sincere compassion and an always cheerful disposition.  Lucy made people feel better, regardless of their circumstances.  Lucy's high level of caring was probably the reason children loved her so much.
This award recognizes the Sheriff's Office family member, who throughout their career, has best honored Lucy's memory by the consistent demonstration of these same qualities.
Corporal Vicki Sumlin began her career with the Brevard County Sheriff's Office in 1996.  Since that time, she has held numerous positions within the agency to include being an agent in the Special Victim's Unit, investigating crimes where children have been victimized.  The time spent in the unit prepared her for a future assignment where she would impact the lives of children in an even more direct and meaningful way.
In July 2019, Corporal Sumlin accepted a position at Fairglen Elementary as a School Resource Officer, where she began to make an immediate impression.  A School Resource Officer's first task is the safety and security of the school.  However, the long-lasting impact comes with the day to day contact with the children.  Corporal Sumlin has not only demonstrated these qualities, she has made a profound personal and professional sacrifice requiring special recognition.
Catherine Murphy, Principle of Fairglen, penned a letter that recognized Vicki for not only mentoring students, assisting them with weekly goals and helping them focus on their behavior and self-esteem, but going beyond this by holding bike drives for students in need, purchasing gift cards for the student of the month and having a holiday food drive for families who were struggling to provide a festive meal that we all too often take for granted.  Principle Murphy felt so strongly about the work that Corporal Sumlin had done, that she nominated her for Employee of the Year, which she was awarded.
The following are just two examples of the sacrifice, compassion, love and charity, Corporal Sumlin has shown to the community.  In April of 2021, Corporal Sumlin learned of a female student who was the likely victim of sexual exploitation, living in numerous strange houses and wooded areas.  Corporal Sumlin helped initiate efforts in what amounted to a community drive that allowed a reunion with the child's father and them obtaining a fully furnished residence.
Agent Corey Jackson recognized Corporal Sumlin for her assistance in a child neglect investigation.  Agent Jackson advised that the children were in need of medical care as well as adequate food and shelter, which was not being provided by the mother.  Corporal Sumlin tried to assist the mother who refused and at one point sent her two daughters to school with shaved heads due to head lice, rather than obtaining medication for the girls.  Corporal Sumlin worked tirelessly to build the girls self-esteem, even seeking out child sized wigs to make them more comfortable attending school.  Agent Jackson learned that Corporal Sumlin had donated bags of clothing to the male children in the family.  When the four-year-old brother was too young to register for school, Corporal Sumlin worked alongside staff to have him enrolled in VPK, so he could have at least one meal a day.  As concerns arose that the family was living homeless, she attempted to find suitable housing for them.  Since that time, the mother has been criminally charged, using information Corporal Sumlin provided and the children have been moved to foster care where they are now thriving with their new foster parents.
Corporal Sumlin gives of her time without hesitation.  She can be found coaching softball, volunteering at her local Taekwondo/Karate school or teaching children's church, providing children with something that goes far beyond their physical needs. She truly embodies the qualities of Lucy and we are honored to recognize her as this year's Lucy Ross Award recipient.
Volunteer of the Year
Citizen on Patrol Jim Bell
Jim Bell has been a COP since 2012 and currently serves as the COP coordinator for North Precinct. Jim has volunteered nearly 800 hours each year since becoming involved in the COP program. He is extremely proud of the impact Project Lifesaver has made in the senior community and takes an active role in working with the individuals who take part in the program. Jim is responsible for scheduling COP training, coordinates COP meetings, and maintains all documentation for the COPs.
COP Bell coordinates with the North Precinct Lieutenants on community events that need support and he has received numerous compliments from citizens and neighbors alike who have expressed appreciation for the visibility he brings to the community.
His level of performance sets the standard for others to emulate. We are very proud to recognize Jim Bell for his dedicated service by awarding him the Volunteer of the Year award.
Citizen of the Year
Ron Chabot
 The Citizen of the Year Award recognizes a member of the community who has provided outstanding service and commitment to the citizens of Brevard County and for continued support of the Brevard County Sheriff's Office.
As the On-Premise Sales Manager for Carroll Distributing Co in Melbourne, FL, Ron Chabot has provided support and resources to the community for many years and is a regular contributor to several local organizations, such as Folds of Honor, the Joe Realino Memorial Fund, Aging Matters, and Promise in Brevard, just to name a few.
As a former US Army MP, Ron has been a great friend to the law enforcement community.  He has generously donated meeting space for multi-agency meetings and is an avid supporter of the Public Safety Charity which supports public safety members in their time of need. He is an active volunteer with several charitable organizations, especially those that benefit Vietnam Veterans and their families, and hospitality workers. Ron additionally volunteers untold hours and support to the Space Coast Honor Flight.
After more than 40 years, Ron will be retiring from Carroll Distributing Co in June.  With passion in his heart for helping others, he plans to continue to serve the community by supporting Veteran Suicide prevention programs.
It is with great pleasure that we honor Ron Chabot as the Brevard County Sheriff's Office "Citizen of the Year".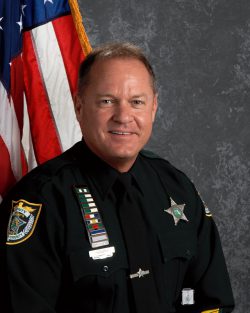 Reserve Deputy of the Year
Reserve Sergeant Chris Hendrix
 Reserve Sergeant Chris Hendrix retired from the Brevard County Sheriff's Office in July of 2016, with over 30 years of dedicated service.  He was rehired in 2017 before leaving full-time deputy status in 2019.  With a desire to continue his service to the citizens of Brevard, he immediately became a member of the Reserve Unit.  Sergeant Hendrix had previously served on the SWAT Team, as a Field Training Officer and Patrol Corporal.  As a member of the Reserve Unit, he served as a deputy until accepting a promotion to the rank of Reserve Sergeant where he now serves as a supervisor for a squad of reserve deputies.
During the past year, Reserve Sergeant Hendrix has volunteered nearly 500 hours for our agency and citizens. Efforts that include charity events, traffic enforcement and scene security, all at no cost to our citizens.  Additionally, as a certified deputy, who has completed the Field Training program, he has assisted road patrol and the Motor Unit on many occasions.
Reserve Sergeant Hendrix is always in the background, never seeking attention or recognition and proudly provides his services and expertise to assist in the operations of the Sheriff's Office and in service to his community.   It is with great pride we recognize Reserve Sergeant Chris Hendrix as Reserve Deputy of the Year.
Public Safety Telecommunicator of the Year
Public Safety Telecommunicator Aleasha Murphy
 Our recipient joined the BCSO Communications Center in May of 2019. In this short amount of time, she has become an excellent Public Safety Telecommunicator.  Aleasha Murphy currently trains new Public Safety Telecommunicators and has recently been appointed to a leadership role as a Communications Lead.  During 2021, she participated in multiple high-priority calls throughout the year that demonstrated her professionalism and dedication to service.
On August 21, 2021, while assigned to our East radio channel, PST Murphy handled multiple priority calls throughout the course of her shift.  At 9:30 pm she quickly dispatched a report of two males and an armed female who were in a physical altercation. As calls from frantic citizens continued to come in from the surrounding area, she provided updates to the responding units and initiated emergency traffic so they could coordinate their response efforts. Her quick action and attention to detail assisted deputies in removing the subjects from the location without further incident.
Less than 10 minutes after clearing emergency traffic from the battery call, she dispatched another priority call.  This caller stated they had received a text from a friend who said she had an injunction against a person who was at the apartment trying to kill her.  When the deputies arrived on scene, the suspect ran and a foot pursuit ensued. She quickly responded to the action, sending additional units to aid in the pursuit.  Deputies were able to apprehend the suspect without further incident.
While units were completing the investigations for the previous calls, our recipient received a third priority call of a submerged vehicle in the Banana River.  The callers could not say if the vehicle was occupied.  Fortunately, after an investigation by our BCSO Dive team members, no one was found inside of the vehicle.
These calls are only a small portion of the priority calls that PST Murphy has dispatched and effectively managed this year.  For her dedication to her colleagues, the citizens of this great county and the deputies of the Brevard County Sheriff's Office, we are proud to recognize Aleasha Murphy as our Public Safety Telecommunicator of the Year.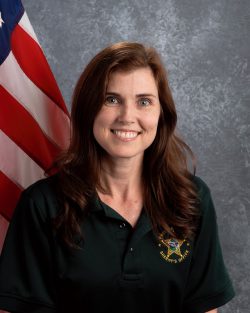 Employee of the Year
Laurie Wilson

Since starting her employment with the agency in 2010, Investigative Support Specialist Laurie Wilson has been an integral part of our agency accomplishing both its internal mission and external community outreach. Her ability to coordinate and serve in both of these important roles is worthy of commendation.  Laurie provides administrative support for the East Precinct General Crimes Unit and her office is a crossroads of investigative agents, analysts, deputies and supervisors working criminal investigations.
Having a "never say no" attitude, Laurie always stops to assist her personnel in meeting the task at hand, and often  at the expense of her own personal time.  Laurie regularly assists with functions that fall well outside of her job description in order to contribute to the overall success of the Sheriff's Office.   One such example of this occurred in 2021, when East Precinct was hit with a shortage in some positions of civilian staffing.  Although already tasked with supporting the Investigative Unit, Laurie took on the additional duties of Command Staff Assistant for both East Precinct and Operational Services.  Handling an already generous caseload of investigative files, she now added the duties of supporting these two commanding officers.   As if this wasn't enough, she also took on the additional task of training other new civilians recently assigned to the precinct.  Keenly aware of the impact that COVID-19 was having on the workforce, Laurie also made sure she arrived early on a daily basis to assist with the sanitation efforts required to safeguard the employees.
Laurie believes in giving back to the employees of the agency as well as the community she serves.  She can be found assisting with the yearly Awards Ceremony, selling tickets at the Speedy Dewitt Tactical Firearms Challenge or coordinating the retirement of long term employees, making sure they gain the recognition they deserve.  Laurie never asks to be recognized, consistently demonstrating a humble and thankful attitude.   She does all this because she truly cares about her community and the agency.  Laurie's outstanding motivation and dedication to duty reflect positively upon herself and continues to keep with the highest traditions of the Brevard County Sheriff's Office.  We are proud to recognize Laurie Wilson as the agency's Employee of the Year.
Corrections Deputy of the Year
Corporal Mirena Croom
This year's recipient began their employment with the agency in 2015.  Due to their exemplary performance, they were promoted to the rank of Corporal in 2017.  Corporal Mirena Croom performs her duties with the highest level of dedication and professionalism each and every day.  In 2021, she distinguished herself by her response to an inmate who was having a serious medical event.
While working her shift at the Jail Complex, Corporal Croom was alerted to a housing area by loud banging and continued cries for help.  As she entered, Corporal Croom was summoned to a cell where she found an inmate in extreme distress, having difficulty breathing and gasping for air.  Corporal Croom quickly radioed for assistance and placed the inmate on her side in a recovery position.  Within seconds, the inmate stopped breathing and went completely unresponsive.
Without hesitation, Corporal Croom began to administer CPR.  The emergency aid provided by Corporal Croom was successful, as the inmate responded by taking shallow breaths.  Corporal Croom maintained watch over the inmate until the arrival of jail medical personnel, who with assistance, was able to place the inmate on a gurney and transfer her to the medical unit.  Once in medical, the inmate's condition continued to decline at which time she was transported to an area hospital.  Once admitted, she received advanced medical treatment and was able to make a full recovery.
There is no greater achievement than saving the life of another who is in the midst of a life-threatening medical emergency.  Without the immediate emergency medical intervention performed by Corporal Croom, this inmate likely would have perished during this medical event.  For her response in preventing the death of this inmate, we are proud to recognize Corporal Mirena Croom as our Corrections Deputy of the Year.
Deputy of the Year
Deputy Brian Potters and Deputy Tyler Thoman
On Monday, August 30, 2021, while working a traffic enforcement detail in south Brevard County, Deputy Thoman initiated a traffic stop on a Chevrolet Impala with a broken passenger tail light. The vehicle exited I-95, pulling off the road on a partially paved open area on the north side of Highway 192.  Deputy Thoman approached the suspect vehicle and made contact with the driver, asking for his driver's license, registration, and proof of insurance.  While at the vehicle, Deputy Thoman observed a female in the front passenger seat and another adult in the rear passenger seat.  There was also an infant in a car seat located behind the driver.
Deputy Brian Potters, who was also working as part of the detail, immediately responded to the scene.  After Deputy Potters arrival, Deputy Thoman asked the female passenger to step out of the suspect vehicle and she was brought to his patrol vehicle's front passenger side door area.  Deputy Potters began speaking with the male in the rear passenger seat for a brief period of time, not knowing that the male was a registered Career Offender with 40 previous arrests, including 23 felony arrests for charges that included:  Robbery with a Firearm, Battery of a Law Enforcement Officer, and Attempted First Degree Felony Murder.  It was also later learned that the male was currently out on bond for two felony drug charges and had two active felony warrants.  As Deputy Potters requested the male to exit the vehicle, the male hesitated for a brief moment, before exiting the rear passenger side door armed with a short barreled assault rifle, which he began firing at both deputies in an ambush style attack.  Faced with the deadly threat, Deputy Thoman and Deputy Potters drew their duty weapons and returned fire against the armed subject.
During the firefight, Deputy Potters was struck by gunfire in his left ankle.   As the deputies took cover, the male followed the deputies around the rear of Deputy Thoman's patrol vehicle and approached them from behind.  The male raised his rifle and struck Deputy Potters on the back of his head, knocking him to the ground.  The male subject then continued to violently strike Deputy Potters on his head and face with the rifle.
Deputy Thoman observed the male repeatedly striking Deputy Potters on his head and face with the muzzle of the rifle as the two struggled on the ground.  Deputy Thoman fired his weapon at the male, striking him and ending the attack against Deputy Potters.
The male subject was transported by Brevard County Fire Rescue to the Melbourne Regional Medical Center, where he was later pronounced deceased.   Deputy Potters was transported by BCFR to Holmes Regional Medical Center where he underwent surgery for a gunshot wound, multiple jaw fractures, a fractured orbital socket, and lacerations of the head.   The agency is awarding Deputy Potters with a Wound Bar for receiving significant injuries while confronting this violent adversary.
Deputy Thoman and Deputy Potters were unexpectedly ambushed by an adversary who had the element of surprise and superior fire power.  Both Deputies returned fire and heroically remained in the fight until the threat was neutralized.  The suspect's sole intent was to kill both deputies and due to their fearless and courageous actions, the suspect failed.   For their heroic actions in this violent confrontation, Deputy Thoman and Potters are receiving a Medal of Valor and we are proud to recognize them both as the Brevard County Sheriff's Office Deputy of the Year.
For additional information concerning this News Release, please call PIO Tod Goodyear of the Brevard County Sheriff's Office at 321-501-7594.