NR 23-16 Brevard County Sheriff's Office announces award winners
The Brevard County Sheriff's Office held their annual awards ceremony on Friday, April 21, 2023, recognizing the many achievements accomplished during 2022 by our sworn and civilian employees.  Also recognized were members of the community who had a profound impact in Brevard County during the year.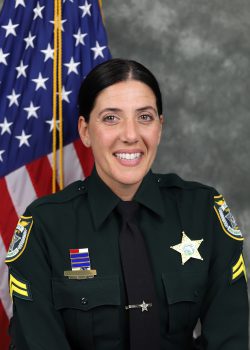 Special Recognition Award
Corporal Hannah Polito     
Since joining the Brevard County Sheriff's Office in May of 2017, Corporal Hannah Polito has displayed a sincere commitment to our agency's mission, our citizens, our community, and her fellow team members!!  Hannah joined our agency to make a difference and make a difference she has in every aspect of her job!!  From climbing through windows to save an injured senior citizen who was moments from death, to dropping everything she is doing to come to the aide of her teammates, Hannah shines as a member of the Brevard County Sheriff's Office.
In addition to being a great Deputy Sheriff who represents our agency with pride, perhaps Hannah's most valuable commitment to the profession of law enforcement, is her compassion for others, her "can do" attitude, and her willingness to sacrifice her own-self for the benefit of others.
Throughout the past couple years, Corporal Polito has been asked on multiple occasions to step outside of her normal duties to assist Sheriff Ivey with everything from taking on a new role as his handler, to being called out late at night to assist with various critical incidents that deeply impacted our agency.  On each occasion, Hannah immediately took on the challenge, as she knew it was exactly what the agency needed.  Challenges that ranged from helping family members of our agency deal with tragedies, to being called upon during the agency's Hurricane Ian response, to travel to the West Coast to be "Deputy Mama Bear" as she not only took care of our team, but helped protect those in need following the impact of the storm.
Throughout her time with our agency, Hannah has demonstrated her passion for our profession, her love of our agency, her commitment to protecting others, and her true faith in God!!  We are proud to recognize Corporal Hannah Polito's dedication to the Brevard County Sheriff's Office and the citizens of Brevard County, as this year's recipient of the Sheriff's Special Recognition Award.
Lucy Ross Award
Sergeant Cory Jackson
The Lucy Ross Award is presented to the Sheriff's Office employee who best exemplifies the outstanding qualities and spirit of our lost family member, Sergeant Lucille Ross.  Throughout her career, Lucy demonstrated an unwavering dedication to community service and excellence in her profession.  Lucy was a genuinely compassionate person who never hesitated to assist others in need regardless of the situation.  Her talents really became obvious when she was helping crime victims and their families.  Despite the rigors and demands of her work, Lucy could always be counted on to arrive with sincere compassion and an always cheerful disposition.  Lucy made people feel better, regardless of their circumstances.  Lucy's high level of caring was probably the reason children loved her so much.
This award recognizes the Sheriff's Office family member, who throughout their career, has best honored Lucy's memory by the consistent demonstration of these same qualities.  No one exemplifies these characteristics more than Sergeant Cory Jackson.
Sergeant Jackson has dedicated his life to public service, serving not only the residets of Brevard County, but as a retired Police Officer from the Pawtucket Police Department in Rhode Island and also as a member of the United State Marine Corps.
Sergeant Jackson's care for his community has positively affected individuals from all walks of life.  The theme throughout his career is that of compassion and a high level of caring, especially concerning children with special needs and disabilities.  During his previous assignment with the Special Victim's Unit, Cory worked closely with both adults and children who were victims of domestic or sexual violence.
Outside of work, Sergeant Jackson volunteers' countless hours with children with special needs and disabilities.  Cory found his passion a number of years ago when his son was diagnosed with a disability.  As his son grew older, he wanted him to enjoy the same outdoor sporting events as every other child.  Cory started volunteering for the Special Olympics as an assistant track coach.
From there he helped create the Fellowship of Christian Athletes All Abilities Team, which helps people of all ages with disabilities participate in athletic events throughout Brevard County.  This was the second group to be created in the nation.
If that wasn't enough, Sergeant Jackson also volunteers his time with the Space Coast Health Foundation helping those with mental illness and other disabilities receive the counseling they need.
When he is not busy working with his community, he is working with his fellow law enforcement officers.  Cory works with the Sheriff's Office Critical Incident Stress Management Team and the Florida Crisis Intervention Team.  Having previously served as a Marine during the Gulf War and seeing some of his brethren come back with Post Traumatic Stress Disorder, Sergeant Jackson wanted to be at the forefront of PTSD in law enforcement.  He spends countless hours of his own time counseling officers from all over the nation and is also working with the Florida Department of Law Enforcement to create a mental health response course.
Sergeant Cory Jackson truly embodies the qualities of Lucy and we are honored to recognize him as this year's Lucy Ross Award recipient.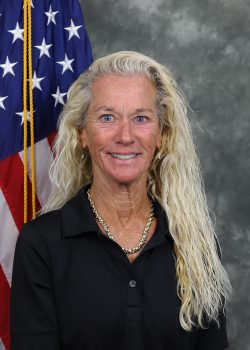 Volunteer of the Year 
Denise Dabrowski-Buchanon
Denise Dabrowski-Buchanon is not only a valued educator for a local middle school, but a dedicated advocate for animals. She spends her time enriching the lives of pets throughout Brevard County.
Denise began her journey volunteering with BCSO Animal Services in June of 2015.  Denise spends the majority of her time volunteering by walking, running, and socializing the pets in our care.  Denise is at the shelter almost daily after school, and never misses a holiday, including Christmas and Christmas Eve. Occasionally she even talks her running club into joining her on holidays to run with our dogs.
In addition to helping the dogs while at our shelter, Denise actively recruits fosters for dogs with mange, hospice cases and others that are medically necessary. For instance, she facilitated a medical foster for a sweet, senior dog, MJ, that was riddled with cancer. MJ is being cared for medically and emotionally, and is living the rest of her days peacefully.
Recently, a gentleman called our shelter about a medical emergency with his dog, Bailey. He took her to the vet but could not afford the necessary care. His veterinarian recommended reaching out to us for assistance. He was distraught and heartbroken thinking he may have to say goodbye to his beloved pet.  Without hesitation Denise contacted the owner and then made an appointment, the same day, with a local veterinarian and covered the costs of this dog's emergency vet care. Because of Denise, this dog's life was saved, a man did not lose his best friend, and a dog stayed in their loving home and out of the shelter.
Friends of Freddy, is a foster based rescue that Denise founded and operates. Not only does Friends of Freddy pull dogs from us, but she also does everything in her power to help pets in the community. By doing this, she has helped hundreds of dogs stay out of the shelter and stay in their loving homes.  Keeping dogs in their loving homes is just as important as getting dogs into homes. Without Denise, we would not be able to have the impact that we do. Her hard work, support and commitment should not go unnoticed which is why Denise Dabrowski-Buchanon is our Volunteer of the Year.
Partnership Award
Roger Handberg
For the past 15 years, the Brevard County Sheriff's Office has partnered with Homeland Security Investigations, the United States Secret Service and the FBI by providing Task Force Agents to work on child exploitation cases.  Agents from the Brevard County Sheriff's Office have served as lead case agents, undercover officers, and forensic examiners on more than 100 child exploitation cases that have been successfully prosecuted in federal court by the U.S. Attorney's Office.
United States Attorney Roger B. Handberg for the Middle District of Florida and the United States Attorney's Office have consistently demonstrated their commitment to keeping our communities and children safe.
In a Federal Press Release from November of 2022, U.S. Attorney Handberg stated, "Protecting our children from those who would seek to do them harm is a top priority of the United States Attorney's Office and our law enforcement partners.  We have had an excellent partner in the Brevard County Sheriff's Office. Their investigators are skilled and dedicated professionals who are committed to protect children from sexual exploitation.  The prosecutions have served to protect children in Brevard County and across the United States. We look forward to many more successes working together with the Brevard County Sheriff's Office on these important cases."
It is an honor to present U.S. Attorney Handberg and the United States Attorney's Office with the Brevard County Sheriff's Office Partnership Award.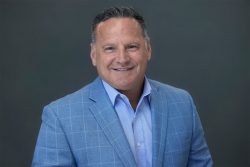 Citizen of the Year 
Ken Gregg
The Citizen of the Year Award recognizes a member of the community who has provided outstanding service and commitment to the citizens of Brevard County and for continued support of the Brevard County Sheriff's Office.
There is no doubt that Ken Gregg has helped the citizens of Brevard County from a business perspective, as his business, Orion180 not only employees over 100 of our local residents but also has helped inspire others to dream big and pursue their passions.
Even with that, what truly sets Ken apart is his unwavering belief in the power of giving back. He has exemplified the true spirit of philanthropy by allocating a portion of the proceeds from his business to the Star Outreach Program, a program designed to help others achieve their dreams. Through this program, Ken has donated over half a million dollars to various charities in Brevard County alone while also making significant contributions to schools and programs such as Palm Bay Elementary, Stone Middle School, and Palm Bay High where he learned to strive for success.
Since moving Orion180 forward at the national level, Ken has also been a strong supporter of numerous other local charities in our community like Family Promise, Neighbor Up, New Life Mission and of course our very own, Brevard County Sheriff's Office Charity.
Ken's unwavering dedication to making a positive impact on the lives of others has made a tangible difference in our community, and his generosity and kindness are truly commendable.
A humble man, Ken embodies the values of family, love, and respect, and he sets a shining example of what it means to be a dedicated and loving spouse, parent, and soon to be grandfather.
Ken's tireless efforts to give back to his community, his exceptional leadership in business, and his unwavering dedication to his family and personal growth all make Ken a true community champion and this year's Brevard County Sheriff's Office Citizen of the Year.
Reserve Deputy of the Year
Reserve Deputy Dylan Lemoine
Reserve Deputy Dylan Lemoine joined the Sheriff's Office in 2020 as an Auxiliary Deputy Sheriff.  While serving as an Auxiliary Deputy and working full-time for a large corporate health care provider, Dylan still found time to continue his law enforcement training, earning his Law Enforcement Certification in 2021.  He joined the Reserve Unit and completed the Field Training Program on May 19, 2022.
His intense desire to serve the citizens of Brevard is reflected this past year as Reserve Deputy Lemoine has volunteered over 1000 hours to the agency of which 928 were hours worked in an enforcement capacity.  He handled or assisted with 960 calls for service while also making 10 arrests, including an arrest of a suspect for drug trafficking.  Dylan has also assisted in charity events, traffic enforcement and scene security, all at no cost to our citizens.
Reserve Deputy Lemoine never seeks attention or recognition and is an absolute professional, who proudly provides his services and expertise to assist in the operations of the Sheriff's Office.  It is with great pride we recognized Dylan Lemoine as Reserve Deputy of the Year.
Public Safety Telecommunicator of the Year
Public Safety Telecommunicator Andrew Polk
Throughout this year, Public Safety Telecommunicator Andrew Polk has been involved in multiple high-priority incidents, all of which were handled professionally and efficiently.
In May 2022, Andrew helped coordinate units who were attempting to locate a suspect that fled on foot from a vehicle crash with injuries in East Precinct. After Andrew directed units to assess the extent of injuries of the victims, he assisted with road units setting up a perimeter for over 45 minutes. The suspect was eventually detained and taken into custody without further incident.
In the same month, Andrew answered a 9-1-1 call where the caller had been shot. He not only obtained vital information for those responding, but dispatched zone units while he was working West radio. For over an hour, he maintained emergency radio traffic for this incident. A warrant for attempted murder was issued for the suspect, who agreed to meet and turn himself in while units were still on scene.
Shortly after the previous shooting, Andrew was working South radio when an influx of calls came into the Communications Center in reference to a shooting in Malabar. He had units dispatched within a minute of the first call coming in and coordinated with surrounding agencies for over three hours while units secured the scene.
In June 2022, Andrew was working West radio when a call came in regarding an escaped prisoner from the Florida Department of Corrections Work Release facility. In less than 30 seconds, PST Polk had multiple units responding to this call. Over 30 deputies from different units responded to this incident; not only did Andrew maintain his primary radio channel during and after emergency traffic, but also monitored the Ops and specialty channels, all while fulfilling every unit's request and documenting their traffic.
Throughout each and every high priority, stressful incident, PST Andrew Polk maintains his professional and calm demeanor, which assists in information being disseminated quickly. He consistently proves how valuable he is to the Communications Center, the deputies he dispatches, the Brevard County Sheriff's Office, and the citizens of this great county.
The Brevard County Sheriff's Office is proud to name Andrew Polk as this year's Communication Officer of the Year.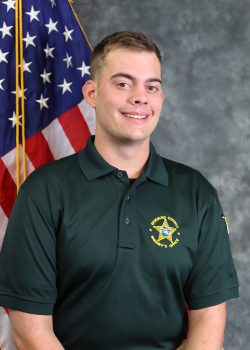 Employee of the Year
Austin Severson
While traveling northbound on I-95, Fleet Maintenance Mechanic Austin Severson observed what he believed to be a crash with a possible ejection. The driver was laying on the ground next to the vehicle on the side of the roadway.
Mechanic Severson immediately stopped to render medical aid when the male driver leapt up and grabbed a large shard of broken glass. The driver then attempted to cut his own throat with the glass and began waiving it at Mechanic Severson in a threatening manner, in an attempt to keep him away. At this time, another passerby, seeing what was transpiring on the side of the highway, sprinted across three lanes of Interstate 95 to aid Mechanic Severson.
As the male driver continued to waive the glass at Mechanic Severson, making suicidal comments and threats, Austin recognized the seriousness of the situation and the potential for harm not only to themselves, but to the male driver as well, due to being on the side of a busy highway. In an attempt to contain the male, Austin assisted by the citizen, tackled and subdued the driver, getting the glass away from him, holding him down until deputies arrived on scene. It was ultimately determined the male driver had intentionally wrecked his vehicle with the intent of committing suicide, which was ultimately prevented by Mechanic Severson.
Mechanic Severson placed himself in harm's way without regard to his own safety to save the life of another citizen of Brevard County. As a direct result of his actions, the male driver only received minor lacerations from his attempt to take his own life. Austin's actions went far above and beyond anything expected or required of a Brevard County Sheriff's Office employee.
The Brevard County Sheriff's Office is proud to recognize Austin Severson as the agency's Employee of the Year.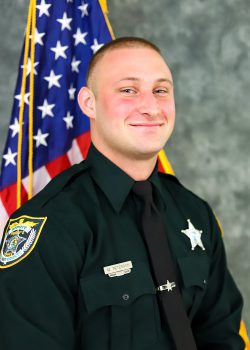 Corrections Deputy of the Year
Corporal Michael Peterson
Corporal Michael Peterson has been employed with the Brevard County Sheriff's Office since December 2016.  He began his career as a Corrections Deputy and was promoted to the rank of Corporal in August of 2019.  It is not uncommon to respond and participate in a lifesaving event at the jail, however responding and saving the lives of two inmates during one shift displays a high level of skill and professionalism.
On September 27, 2022, Corporal Peterson was the Officer in Charge for the 500 Pod of the Brevard County Jail Complex.  During his shift, Corporal Peterson was alerted to a possible medical emergency in 500 Echo.  Corporal Peterson responded to the scene and observed an inmate in respiratory distress who ultimately became unresponsive.  Corporal Peterson was able to communicate with other corrections officers to ensure that EMS would be notified and respond to the jail facility.  As the inmate's medical condition continued to decline, Corporal Peterson began life saving measures by providing rescue breaths via an Ambu Bag.  After several minutes of providing rescue breaths, the inmate's breathing began to improve and the inmate was placed in the recovery position.  Corporal Peterson continued to monitor the inmate until the arrival of EMS.  The inmate was transported to a local hospital where he made a full recovery.
During the same shift, Corporal Peterson responded to the 400 Pod where other Corrections Deputies had just begun to administer CPR on another inmate.  Corporal Peterson immediately began chest compressions while other deputies administered breaths and prepared an AED.  CPR was performed for several cycles and Narcan was also administered which did not change the condition of the inmate.  The AED delivered one shock and CPR was continued until deputies were able to feel a pulse and the inmate began to breathe on his own.  The inmate was ultimately transported by Brevard County Fire Rescue to a local hospital where he recovered.
The life saving measures provided by Corporal Peterson to both inmates during the same working day were not only instrumental in saving their lives, but also demonstrated his professionalism and dedication to duty.
The Brevard County Sheriff's Office is proud to recognize Corporal Michael Peterson as our Corrections Deputy of the Year.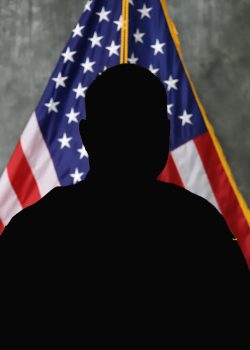 Deputy of the Year 
Agent Dan Magill
Throughout the past year Agent Dan Magill has used his thoroughness and investigative knowledge to bring successful closures to investigations ranging from fraud to a complicated explosive device case.  The following cases are representative of the tenacity and investigative ability displayed by Agent Magill.
After deputies broadcast the description of three suspects who had passed counterfeit bills at a local convenience store, Agent Magill took it upon himself to search the area on the chance he might observe the suspects.  Agent Magill observed three possible suspects and upon talking with them used his interview skills to identify the vehicle they had been using.  As the investigation continued, probable cause was gained to search the vehicle during which multiple counterfeit bills were located.  The case was ultimately turned over to our Economic Crimes Unit where the suspects were identified as convicted felons operating an organized counterfeiting operation.
Agent Magill made such an impression on his superiors that even though he was not a seasoned investigator a decision was made to assign him to the Special Investigations Unit.  Agent Magill hit the ground running, setting his sights on a large-scale drug trafficker that had proved untouchable for years.  Although no informant would work with the police, Agent Magill was undeterred and began using surveillance and other investigative techniques over a four-month period that eventually paid off with the evidence gained to obtain a search warrant for the target's residence.  The search led to the seizure of nearly 200 grams of methamphetamine and $8,000 dollars in cash.   His interview skills enabled him to gain a confession from the suspect that led to the dismantling of the organization and successful prosecution of the suspect.
Perhaps the finest example of his abilities was displayed during his investigation of an explosive device case.  Upon the initial response to an exploding mailbox call, deputies quickly located evidence which they perceived to be the remnants of an improvised explosive device. Agent Magill was briefed on the incident, then expanded the crime scene perimeter and contacted the on call BCSO Bomb Squad technician.
Immediately, Agent Magill began interviews and learned the victim just moved into the residence 48 hours prior and the landscaper for the property was owed money by the prior tenant. Agent Magill obtained residential video surveillance which showed a black sport utility vehicle, driven by a white male with a beard, exit the truck at the neighbor's residence. Agent Magill was able to identify the owner of the SUV who was on felony probation.
Crime Scene Investigators and Explosive Ordinance Disposal members determined the device used to destroy the mailbox was a manufactured destructive device, which was not constructed hastily.  The maker would have needed ample time to construct the device in a clandestine manner, to avoid detection by witnesses, or law enforcement. Throughout the night and into the early morning hours, Agent Magill developed probable cause and drafted an arrest warrant for the suspect and a search warrant for his residence. Later that morning during the execution of the search warrant, the suspect was located and arrested. During the search of the residence, two suspected explosive/ incendiary devices were located.
Agent Dan Magill represents the highest ideals and finest example of the men and women of the Brevard County Sheriff's Office, his investigative knowledge and determination have helped protect the citizens of Brevard County and punished the criminals who violated their safety.  It is our privilege and honor to name him the Brevard County Sheriff's Office, Deputy of the Year.
For additional information concerning this News Release, please call PIO Tod Goodyear of the Brevard County Sheriff's Office at 321-501-7594.