Deputy of the Year Award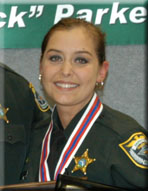 In August 2007, Deputy Tabbitha Harvey responded to a suspected burglary involving the theft of firearms. Upon arriving, two male subjects were located in the area of the identified residence as they were preparing to leave. The two men were initially cooperative with directions of the deputies. However, one of the males became nervous and agitated when deputies located the stolen firearm in a nearby truck.
As the uncooperative behavior of the suspect escalated, Deputy Harvey conducted a frisk of his person due to concerns for officer safety. During this frisk, she discovered the subject had a firearm concealed behind his back in the waistband of his pants.
The individual ignored the commands of the deputies and aggressively pulled the firearm from his waistband. A second deputy struggled with the subject and was able to force him to the ground. As the subject continued to resist all control efforts, he pointed the loaded gun at the other deputy with the intent to shoot at close range. Deputy Harvey quickly drew her firearm and in a split second fired multiple accurate rounds at the subject resulting in his death and very possibly saving the life of a fellow deputy and others.
The exceptional actions in this high-risk enforcement action are worthy of official commendation. In addition to being selected as the Brevard County Sheriff's Office "2007 Deputy Sheriff of the Year", Deputy Tabbitha Harvey has been awarded the agency's highest honor, the Medal of Valor.
Corrections Officer of the Year Award
Corporal Kimberly Freeman was selected as Corrections Officer of the Year for her heroic efforts in coming to the aid of a fellow officer who was being viciously attacked by an out of control inmate in January 2007. The injured Officer was disoriented by the blow and received a laceration to the back of his head. A dangerous, maximum-security inmate who used an improvised dangerous weapon had struck a fellow Corrections Officer in the head and was continuing his efforts to greatly injure and kill the officer.
Corporal Freeman was in the area, and immediately came to the injured officer's aid. She first attempted to use a chemical agent on the attacking inmate, but it proved ineffective and did not stop the inmate's attack. When the chemical agent did not work, she made a conscious decision to place herself between the injured officer and the attacking inmate. The inmate now directed his rage at her and started violently swinging the weapon at her.
Despite being struck in the forearm several times, she held their ground and continued to protect the injured officers which provided critical time for responding officers to arrive and help to subdue the inmate.
Corporal Freeman's selfless act of bravery very likely saved her fellow officer from more serious injury or possibly worse. As a result, Corporal Freeman has been selected as Brevard County Sheriff's Office "2007 Corrections Officer of the Year". Corporal Freeman was also honored to be selected as the State of Florida's "2007 Corrections Officer of the Year" by the Florida Sheriff's Association for the entire State of Florida.
Employee of the Year Award
Throughout 2007, Crime Scene Technician Erin Green has consistently demonstrated the highest standards of performance with the Brevard County Sheriff;s Office. She has worked with BCSO Homicide Agents on two different cold case investigations and has spent countless hours locating and processing evidence that in some instances had been stored for more than 15 years. Utilizing her training and skills, Erin was able to successfully cultivate material that led to a successful D.N.A. profile. This new profile is now being used to bring a murder suspect to justice after more than 11 years of thwarting law enforcement efforts to arrest him for the crime he committed so many years ago.
Erin also assisted in another homicide case that has remained unsolved for 16 years. It was thought that the tissue samples of the victim had been destroyed, severely hampering investigative efforts. She conducted a thorough review of the case file and discovered that some tissue samples were originally sent to a forensic laboratory in 1995 to be processed.
She contacted that laboratory and ultimately was able to reclaim some of the victim's original tissue samples. This was very significant in further assisting Homicide Agents in their investigation of this cold case and in their efforts to bring the suspect to justice.
We are all extremely proud of her tenacity and unrelenting work ethic and she has proven to be absolutely perfect for the tough and challenging profession she selected. Erin Green makes a real difference by bringing criminals to justice in the most difficult of cases.
Communications Officers of the Year Award
Communications Officer Peggy Human has consistently demonstrated her dedication to duty and willingness to "go above and beyond" on a daily basis.
In January 2007, she assisted Homicide Agents by successfully researching numerous sources to obtain important information that was not readily available. This information was of direct benefit to the agents and played a big part in the homicide investigation.
In June of 2007, she was also commended for the handling of a call where a distraught male was threatening suicide by knife and reported he had cut himself several times. Officer Human engaged in a conversation with the subject and through patience, compassion and guidance, was instrumental in convincing him to discard the weapon and exit the residence and turn himself over to deputies who were arriving on scene. Deputies attributed her calm demeanor and experience as the key factors that resulted in bringing this very volatile situation to a successful conclusion.
The actions described are only a sample of the dedication and commitment Peggy Human brings to the important position of a 911 Communications Officer. She serves as an excellent source of information and strives to be as helpful as possible to fellow 911 officers. Her peers revere her as being the "best in the business", but she would be the first one to tell you that the other 911 officers are more deserving.
Medal of Valor Award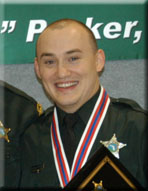 The Medal of Valor is the highest award given by the Sheriff's Office. It signifies that the recipient has displayed exceptional service to the community while risking his or her life while performing a very hazardous duty. This year's Medal of Valor was awarded to Deputy Brandon Gish.
On November 22, 2007, the Brevard County Sheriff's Office Communications Center received a 911 call from a woman advising her husband had just fired at her with an AK47 Assault Rifle. She went on to advise that she was able to flee her home with two of her three children.
Deputies quickly responded to the West Cocoa residence and established a perimeter. As the deputies were awaiting the arrival of another deputies with keys and a phone number to the house, the suspect exited the rear of the residence carrying an AK-47 and pump action 12-gauge shotgun, one in each hand. As the suspect approached Deputy Gish's position, Deputy Gish identified himself and ordered him to drop his weapons. The suspect responded by aiming both of his weapons at Deputy Gish. He engaged the suspect and fired three rounds at him striking him in the chest. Deputy Gish and a fellow deputy were then able to disarm and handcuff the suspect who was found to be wearing a bulletproof vest, which stopped the rounds fired by Deputy Gish.
While at the hospital and being treated, the suspect advised he was coming outside to set up an ambush, which could have led to the deaths of the responding deputies when he encountered Deputy Gish.
The exceptional teamwork of all the deputies involved at the scene and the outstanding performance of Deputy Gish clearly prevented the suspect from carrying out his intended ambush and very possibly saved the lives of his fellow deputies and other innocent people.
Lucy Ross Award
Beginning in 2005, the Brevard County Sheriff's Office established a very special annual award known as the Lucy Ross Award. Lucy was unfortunately taken from us much too early when she was killed in the line of duty on October 8, 2004. Lucy was very special to all of us. One of the ways we celebrate her life is through the recognition of a very special person in the Sheriff's Office who demonstrates the same qualities as Lucy. Qualities such as an unwavering dedication to the community, the attainment of excellence in her profession, and the love of children.
---
The 2007 Lucy Ross Award winner was presented to Lieutenant Tod Goodyear. Lt. Goodyear was nominated for his efforts to help children who have been victimized by crime. He has continued to do this throughout his 20+ years with the Sheriff's Office.
A thick stack of thank you letters from citizens over the years is evidence that he has had a positive impact on the lives of many.
One of the most significant achievements of his career is his work with the Sexual Offender Registration and Tracking Unit (SORT). Lt. Goodyear researched the creation of such a unit and in 2005, and with the support of Board of County Commissioners, this vision became a reality and in 2006, the SORT Unit was born. To say this unit has been successful is an understatement. It has located the majority of absconded offenders, has worked with city and state agencies to conduct sweeps, and created a dependable method of notifying the community of predators in their neighborhoods. The unit has even taken a pro-active approach to preventing children from becoming victims by targeting Internet pedophiles. The SORT Unit has made significant progress in protecting children on-line by working with U.S. Customs, the Internet Crimes Against Children Task Force and the Brevard/Volusia Exploitation Task Force. With Lt. Goodyear's assistance, the Brevard County Sheriff's Office SORT Unit has become a national model for other law enforcement agencies.
Lt. Goodyear also serves a critical role on the Board of Directors with the Children's Advocacy Center of Brevard County. This special agency is a child-centered setting where professionals from the Department of Children and Families, local law enforcement, and the Office of the State Attorney work together under one roof to effectively investigate child abuse cases.
Lt. Goodyear is an outstanding example of the dedication to our children and crime victims of Brevard County, the same kind of example Lucy Ross set. He has reduced the victimization of children and made Brevard County a safer place to live.
Reserve Deputy of the Year Award
In 2007, Reserve Deputy Sergeant Frank "Doc" Brown was promoted to the rank of Sergeant and has had a tremendous impact on the Reserve Deputy program and this agency. He has set the example for volunteer hours by volunteering over 600 hours with the Reserve Unit. He has spent a great deal of time assisting both Uniform Patrol and the DUI Unit.
Additionally, he is developing a new Reserve Unit website for the Brevard County Sheriff's Office, has assisted in reviewing and updating the Reserve Unit Operating Procedures and has established Reserve Deputy email accounts for all members of the unit.
Sgt. Brown also acted as a Reserve Operations Sergeant during the recent selection process for a Reserve Sergeant vacancy in the North Precinct. His dedication and devotion to the citizens of Brevard County are truly appreciated.
Volunteer of the Year Award
The Brevard County Sheriff's Office considers it an honor to recognize citizens who make a significant contribution to Agency by volunteering their time, skills and talents to make our community a better place to live.
---
George Rosenberg was awarded the Volunteer of the Year Award for his outstanding service and dedication to the Citizen Observer Patrol program (COP program) in the South Precinct. Since joining the COP program in December of 2004, he has been very active in the Barefoot Bay area and has volunteered over 500 hours each year.
He is the South Precinct coordinator for approximately 40 COP program volunteers and readily takes on the task of organizing support for various events. This year he assisted in the organization of the first ever Barefoot Bay Christmas parade in addition to assisting the Micco Volunteer Fire Department during their fundraisers by providing parking and traffic control.
We can always depend on George Rosenberg to step up and answer the call for anything the Sheriff's Office or the citizens of Brevard County need.
Citizen of the Year Award
The Citizen of the Year Award is an opportunity for the Sheriff's Office to recognize a member of our community who is truly making Brevard County a safer place to live and work. CEO of Harris Corporation Howard Lance is the living definition of leadership and compassion.
Sheriff Jack Parker has worked side by side with Mr. Lance during his two-year tenure as Chairman of the United Way's Board of Directors. In 2005, he was campaign chairman and has occupied the top spot of the United Way as the Chairman of the Board for 2006 and 2007. When you consider the leadership of Mr. Lance, it is not surprising that the United Way of Brevard has had 3 record-breaking years in a row.
One of the reasons for the United Way's fundraising success has been the personal generosity of Howard Lance and his wife, Christine. They themselves have been major personal financial donors each of those years, as has been the Harris Corporation he leads, which raised more than $1 million dollars for the United Way of Brevard in 2007.
When you think about his immense corporate responsibilities, his volunteerism is absolutely remarkable.
His civic involvement goes beyond the United Way. He has played a key personal role in several organizations that help to protect and provide services to women, children and families in need.
On behalf of the 1200 members of the Brevard County Sheriff's Office, we thank Howard Lance for his service and generosity, which has and will result in a better and safer community for us all.
Life Saving Award
In March 2007, a distraught male called his wife and stated he was going to commit suicide by blocking the exhaust pipe on his truck and breathing in the fumes.
The male refused to give his location to his wife and she turned to the Sheriff's Office for help. The wife believed her husband could possibly be at a construction site in Cocoa. With her assistance, deputies responded to that site and found the man's truck.
Deputy Kevin Sherrill arrived on scene first and upon approaching the vehicle, noticed the car was running and observed a hose running from the exhaust pipe into the cab of the truck. He and his fellow deputies found the male driver unconscious and slumped over inside the truck.
After removing him from the vehicle, the man was not breathing, but did have a faint pulse. Deputy Sherrill provided rescue breaths to the male and continued the rescue breathing for until fire rescue arrived on scene.
The man was transported to Wuesthoff Hospital and made a full recovery thanks to the quick and compassionate actions of Deputy Sherrill.
---
On September 21, 2007, the Communications Center received information from a passing motorist of a single car accident where the vehicle left the roadway.
The car had apparently flipped several times and landed in a water-filled retention ditch. Deputy Ronald Johnson responded to the area of South Babcock Street in Grant and was the first responder on the scene.
Upon his arrival, he immediately observed the vehicle in the ditch. He also observed one female laying on the ground with a second female laying motionless and face down in the water and unresponsive. He immediately directed his actions toward the submerged female fearing she may be drowning and jumped into the retention ditch and pulled her from the water.
After pulling her out, with Deputy Johnson's assistance, she began to breathe. Brevard County Fire Rescue responded and administered life saving measures on both females.
BCFR Paramedics credited Deputy Johnson with saving her life. Without his quick actions, she would have surely drowned.
---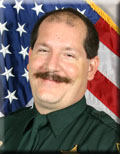 On December 26, 2007, Deputy Tim Shealey was dispatched to a residence in Mims regarding a medical emergency.
When he arrived at the home, he found an elderly female unconscious on the living room floor surrounded by several hysterical family members.
After finding the female with no heartbeat and not breathing, Deputy Shealey utilized his issued Automated External Defibrillator (AED), and CPR to resuscitate the woman. Brevard County Fire Rescue credited the quick response and immediate actions of Deputy Shealey as the reason the woman's life was saved.
It should be noted this life saving action involving an AED is the second successful resuscitation by Deputy Shealey. In 2003, the American Heart Association recognized his life saving actions when he revived a man who had suffered a heart attack in Titusville.
Commendable Service
Agent Craig Adelman
Virginia Casey
Deputy Raul Guerra
Corporal Daniel Gibbons
Sgt. Robert Baker
Sgt. Dennis Casey
Deputy Shawn Crook
Deputy Jennifer Smith
Deputy Tola Baum
Agent Doug Caskey
Deputy Jesse Forrest
Deputy Richard Lee
Ann Blush
Peggy Human
Agent Kirk Geweniger
Deputy David Lewis
Deputy Alan Confreda
Margaret Cline
Agent John Hall
Erin Green
Agent Todd Calhoun
Deputy Bret Cook
Agent Brian Stoll
Agent David Marich
Deputy Anthony Brannon
Agent Brenda Branham
Deputy Brandon Gish
Deputy James McClellan
Sgt. Frank Brown
Cheryl Pelletier
Deputy William Fletcher
Deputy Buddy McGee
Deputy Frank Santiago
Sgt. Sharon Cummings
FTO Shannon Griffin
CO Jeffrey McKeehan
Lt. James Schneider
Deputy Michael Traylor
Deputy Douglas Lindberg
Deputy Harry Cieszynski
Corporal Ray Seigel
CO Sam Walton
Deputy Thomas Gunter
Sergeant Allie Roberts
Crystal Smith
Agent Chris Williams
Sergeant Mike Bradshaw
Sergeant Alan Rainey
Daniella Tovar
Lieutenant Kenneth Willis
Deputy Selvester Harris
Kathy Milton
Deputy Mark Stamates
Sergeant James Woolsey
Deputy James Harrison
Deputy Charles Nash
Deputy Bruce McMann
Deputy James Zibell
Karen Hicks
Lori Phetterplace
CO Erwin Krempel
Deputy Carrie Pyne
Agent Francis Dufresne
Agent Barbara Pill
Deputy Michael Mazzone
Deputy Jose Santos
Deputy Brian Jones
FTO Dean Primavere
CO Michael Kleckner
Deputy John Mason
Deputy Christopher Ginther
Deputy Lyndale Smith
Meritorious Awards
These recipients were presented a Meritorious Award for outstanding duty performance. They have displayed unusual thoroughness, determination, and initiative while carrying out thier duties.
Lieutenant Randy Beville
Agent Vincent Ziccardi
Deputy Frank Sarivola
Deputy James Haman
Lieutenant Glenn Evers
Sgt. James Woolsey
Deputy Marc Rosenfeld
Deputy Robert Bennett
Cpl. Kimberly Freeman
Agent Craig Adelman
Corporal Tim Goodwin
Deputy Jesse Forrest
Deputy Tygh Freeman
Agent Alan Confreda
Corporal Steve McNatt
Corporal James Core
Lt. Tod Goodyear
Sergeant Brian Seeley
Deputy Chris Cardinal
Deputy Lyndale Smith & "Boss"
Agent Christopher Williams
Deputy Joseph Feisthammel
FTO Kenneth McClenahan
Wound Bar
Community Service Award
Agent Jim Landon
Lori Chabot
PSA Reggie Hammond
Glenda Brown
Cpl. Brenda Deans
Major Mike Brown
CO Lorenzo Hutchinson
Mary Moseman
Cpl. Geraldine Barringer
Lt. Andrew Walter
CO John Matthews
FTO Jesse Birch
Corporal Mitch Boshnack
Deputy Robert Johnson
Sgt. Gregory Buttrick
Sgt. JJ Woolsey
Charlene Neuterman
Unit Citations
Canaveral B & D Squad
Dive Team
Sheriff's Work Farm
West Precinct E Squad
Career Development
East Precinct "A" Squad
Judicial Process Unit
South Precinct E Squad
Communications
East Precinct "B" Squad
North Precinct B Squad
Reserve Deputy Unit
Crime Scene Unit
Fugitive Unit
North Precinct C Squad
North Precinct
North Precinct GCU
Records
North Precinct E Squad
S.O.R.T.
Special Investigation Unit
Comm. Center Evenings
SWAT Round-Up Team
East Precinct C & E Squad
Inmate Labor Crews Supervisors
Jail Complex A Squad – Evenings
30 Years of Service Award
Deputy Jessie Carver
Deputy Gene Hope
Manager Imogene Mullins
Margaret LaFontaine
25 Years of Service Award
Lieutenant Susan Johnson
Chief Mike Lewis
Commander Doug Scragg
Lieutenant Mike Matthias
Commander David McCormick
20 Years of Service Award
Lieutenant Jack Aguiar
Sergeant Gregory Davis
Corrections Officer Donalee Jenkins
Dolores Scott
Corporal Robert Williams
Sergeant Edward Ansell
Lieutenant James Dodson, Jr.
Sergeant Robert Lough
Deputy Donald Callsen
Sergeant Ronald Barker
Corporal Bruce Dowdy
Lieutenant Jeffrey Ludwig
Deputy Jon Sperling
Lieutenant Randy Beville
Sergeant Alan Rainey
Jimmy Fielding, Jr.
Sergeant Darryl McCollough
Corporal George Stewart
Nan Hudson
Lieutenant John Boyd
Corporal Stanley Fletcher
Deputy Herbert Messer
Deputy Robert Stouch
Lieutenant Darrell Hibbs
Commander Doug Waller
Wyndle Haese, Jr.
Sergeant Sharon Cummings
Corrections Officer Michael Van Slyke
Reserve Deputy Charles Nash
Lieutenant Ron Cook
Agent Pete Huminski
Deputy Chris Sands
Corrections Officer John Cornelius, Jr.
Employees of the Month – 2007
January: Staff Assistant Margaret Cline
February: Property Control Agent Kathy Milton
March: Crime Scene-ID Supervisor Virginia Casey
April: Crime Scene Technician Erin Green
May: Corrections Technician Laura Stevenson
June: Staff Assistant Candice Parker
July: Desk Officer Crystal Smith
August: Analytical Support Specialist Laura Cline
September: Computer Field Service Engineer Steve McGovern
October: Crime Scene Technician Candace Matthews
November: Inmate Information Clerk Frank Costello
December: Staff Assistant KerriAnn McGuire
Corrections Officers of the Month – 2007
January: Sgt. Patricia Tipton
February: Paul Hull and FTO Chris Wood
March: Cpl. Kimberly Freeman
April: Christopher Martin
May: FTO Jesse Williams
June: Jonathon Jackson
July: Nancy Underhill
August: Erwin Krempel
September: FTO Donna Earles
October:Jeffrey McKeehan
November: Cpl. Nunez-Brown and Shannon Hughes
December: Simone Brown
Communications Officers of the Month – 2007
January: Peggy Human
February: Karen Hicks
March: Andrew Polk
April: Leslie Hughley
May: Lance Jackson
June: Peggy Human
July: Greg Williams
August: Shelly Davis-Price
September: Shawna Griffin
October: Angie Velten
November: Cheryl Pelletier
December: Lori Phetterplace
Deputies of the Month – 2007
January: Deputy Kevin Sherrill
February: FTO Kenneth McClenahan
March: Lieutenant Glenn Evers
April: Deputy Lyndale Smith and "Boss"
May: Deputy Joseph Feisthammel
June: Deputy Robert Bennett
July: Lieutenant Tod Goodyear
August: Deputy Tim Goodwin & Deputy Tabbitha Harvey
September: Deputy Ronald Johnson
October:Deputy Tim Shealey
November: Deputy Brandon Gish
December: Deputy Marc Rosenfeld
2007 Awards Committee Members:
Chairman Lt. Mike DeMorat, Lt. Tim Pemberton, Sgt. Scott Molyneaux, Sgt. Robert Cullen, Sgt. Alan Rainey, Sgt. Patty Tipton, Sgt. Ronnie Crane, Cpl. Bruce Dowdy, Cpl. James Judak, Cpl. Chris Ferrante, Agent Don Reynolds, Yvonne Frazee, Teresa Velten, Glenda Brown, Cheryl Sink, Manager Mike Brickner, and Shirley Fleming-Brickous.