Deputy of the Year Award
FTO Bret Cook became a member of the Brevard County Sheriff's Office in 2006. Since that time, he has worked at North Precinct, South Precinct and is currently assigned to the West Precinct as a Field Training Officer.
In addition to working on patrol, he is a member of the Brevard County Sheriff's Office SWAT Team. In the 5 years he has been with us, he has proven to be a very reliable and courageous member of the agency. He has provided outstanding service since he was hired in 2006, but he had a truly exceptional year in 2010 and was recognized many times for excellence. Of the more than 500 incredible deputy sheriffs in this agency, he was recognized as the Deputy Sheriff of the Month twice in 2010, a rare accomplishment.
In a single year, he was awarded the Meritorious Service Award for his investigative skills in a homicide case, a Life Saving Award for saving the life of a drug overdosed teen and the Sheriff's Office's highest and most prestigious award, the Medal of Valor for his involvement in a shooting incident where an armed suspect was threatening to kill his family.
Through all Deputy Cook's activities, he displayed exceptional dedication, courage and professionalism and the entire BCSO family is proud to name him the 2010 Deputy Sheriff of the Year.
Corrections Officer of the Year Award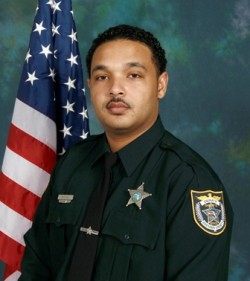 Corrections Deputy Josh Butler has sets the standard for excellence in the corrections profession. Although he had a busy 2010, he was ultimately selected to receive this prestigious recognition for taking immediate actions which saved the life of an Inmate.
In June of 2010, Corrections Deputy Butler was working in Charlie Cell Block of the 500 Pod when he noticed an inmate in severe distress, gasping for air. He quickly assessed the situation and realized that the inmate had something lodged in his throat that was obstructing his airway. He remained calm and immediately began to perform abdominal thrusts on the inmate. After multiple thrusts he was able to dislodge the obstruction, clearing the airway and allowing the inmate to breathe.Because the inmate's airway was fully obstructed, his actions saved the life of the inmate and just 2 or 3 more minutes of distress would have resulted in the inmate's death.
In addition to being named the 2010 Corrections Deputy of the Year, Corrections Deputy Butler was also awarded the Sheriff's Office Life Saving Award.
Communications Officer of the Year Award
Shawna Griffin has been employed with our 911 Communications Center for 20 years and has been a Shift Supervisor for the last 15 of those 20 years. During that time, she has developed a close rapport with co-workers and her ability to communicate with citizens far exceeds expectations. She has been commended on many occasions for her compassionate approach to citizens, as well as her ability to serve as a leader in this agency. She encourages her team to always do their absolute best in one of the toughest and most challenging professions.
In addition to supervising a shift, she has taken the initiative to coordinate the Outreach program for Communications for the last 4 years. This program is designed to find applicants who have the right stuff to be a successful 911 Communications Officer. Her efforts have made a real difference in the overall quality of our 911 service. She is also a member of the regional Child Abduction Response Team and recently completed the FDLE Instructor Techniques course. She was also actively involved in the Sheriff's Office United Way campaign which yielded great success.
She is revered as being the "best in the business" by her peers, supervisors and staff.
Employee of the Year Award
2010 was a very challenging year for the Crime Scene Unit due to a large case load and higher than expected employee turnover. As a result, CSI Kate Hart's work schedule was intense, but she went to work every day and every night with a smile on her face and the best attitude you could imagine.
So how did we thank her? With even more responsibility. We needed her to train the incoming crime scene technicians in addition to doing everything else she was doing. And once again, she did it with a great attitude. In 2010, she either assisted or was the lead crime scene investigator in most of Brevard County's homicides. In addition, she also responded to164 other important criminal cases.
In what little off time she has, she uses it to volunteer for her community. She is the head coach for the Merritt Island High Schools girl's local lacrosse team.
In May, she received a letter of appreciation for assisting in the writing of the "Solving Cold Cases with DNA" grant. In June, she received a letter of appreciation for her efforts which assured a successful prosecution of suspects associated with a narcotics grow house. In August, she was awarded a Commendable Service Award for her assistance to the Cocoa Police Department to exhume the body of a murder victim, a complicated process that took 11 days in an open field with temperatures exceeding 100 degrees.
She has also been recognized by State Attorney Norm Wolfinger for her work with their office which helped assure successful prosecutions.
Lucy Ross Award
Beginning in 2005, the Brevard County Sheriff's Office established a very special annual award known as the Lucy Ross Award. Lucy was unfortunately taken from us much too early when she was killed in the line of duty in 2004. Lucy was very special to all of us. One of the ways we celebrate her life is through the recognition of a very special person in the Sheriff's Office who demonstrates the same qualities as Lucy…qualities such as an unwavering dedication to the community, the attainment of excellence in her profession, and the love of children.
---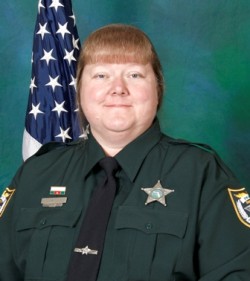 Deputy Sherry Pope has been employed by the Brevard County Sheriff's Office for more than 20 years. She has utilized her position in the Sheriff's Office working in the Dependency Court at the Moore Justice Center to make a lasting difference in the lives of the children and families. She shows incredible compassion to those in need, especially children.
One such example is when she met a 15 year old girl who has spent the majority of her life being shuffled through over 60 various foster homes. Seeking to provide her some form of stability, she has called her on a regular basis, celebrates her birthday, spends time with her on the weekends, takes her out for lunch or dinner, purchases clothes for her, listens to her problems, and provides a positive influence on her life.
She often leads and coordinates toy drives, clothing drives and blood drives. She took advantage of an empty room at the Moore Justice Center and stocked it with toys and clothing so children who come to the courthouse who are in need can pick out a toy or receive some new clothing. According to the Honorable Judge Charles Crawford, "She is truly an asset to the Sheriff's Office. She provides every child that comes to court with a memory that includes her caring attitude, compassion and even a gift from the court they can take with them. She is by far the most professional, and at the same time, most compassionate person, I have ever encountered. I cannot tell you enough how deserving I think she is of the Lucy Ross Award."
Reserve Deputy of the Year Award
Reserve Deputies are fully certified law enforcement officers, but most have full time jobs in the private sector. They want to serve their community as law enforcement officers and do so free of charge without any pay or benefits. All of our reserves are extremely special people and our county is blessed to have them.
Reserve Deputy Doug Postlethweight volunteered 681 hours and worked 21 special details during 2010 . He is committed the Sheriff's Office and the citizens of Brevard. He assists with Ag/Marine and road patrol on a frequent basis. Regardless of what is asked of him, the answer is always yes. According to the supervisors of the Reserve Unit, he has been an excellent deputy that has proven he can be counted on and they are extremely proud of him.
Volunteer of the Year Award
Volunteers make up an important part of the Sheriff's Office. Their efforts make Brevard County a safer place and they save taxpayers hundreds of thousands of dollars each year in no cost public safety services. Although, every one of our volunteers is deserving of our gratitude, it is always an honor to select the year's top volunteer.
Charlie Grimm is assigned to the Cape Canaveral Precinct and performs an extraordinary service for the Brevard County Sheriff's Office and the Citizens of Cape Canaveral. He has volunteered to work very major Canaveral event in memory. Before retirement, Charlie was a full time Corrections Officer with the Sheriff's Office for many years. After a few years of retirement, he decided to volunteer his spare time with the Cape Canaveral COP program. Charlie's spare time quickly became a full-time commitment. In 2010, he logged almost 2,000 volunteer hours and logged close to 10,000 patrol miles.
Citizen of the Year Award
The Brevard County Sheriff's Office has selected Bob Stork CEO of Communications International, Inc. as the "2010 Citizen of the Year" for Brevard County as a result of his caring and compassionate actions for Brevard County's Children by supporting many Sheriff's Office initiatives to protect them.
His generous and unending support of Crosswinds Youth Services which includes their Children's Shelter which gives children a loving environment safe from abuse.
Bob Stork, and the entire C I I Team under his leadership, has made a real difference in the lives of children in Brevard County.
Medal of Valor
Deputy Jeff Cook
Sergeant Mike Brown
Agent Raonel Barrial
Agent Pete Huminski
FTO Bret Cook
Cpl. Quincy Hines
Deputy Chris Little
Agent Rob Vitaliano
Deputy Thomas Case
Deputy Mike Hriciso
Cpl. Brian Regan
Deputy Jason West
Meritorious Awards
These recipients were nominated by their supervisors and selected by the Awards Committee for displaying exceptional thoroughness, determination, compassion and initiative while carrying out their duties.
Corporal John Speece
Cpl. Sang Hill
Deputy Todd Holland
Communications Officer Michael Kirn
Agent Dan Ogden
Agent Lee Wenner
Deputy Lyndale Smith & K9 Boss
Deputy Jeffrey Kroll
Deputy Brett Cook
Agent Kraig Hupfer
Deputy Jennie Rivera
Corporal John Martinez
Sgt. Terry Laufenberg
Deputy Justin Gould
Deputy William Dasher
Corporal Christopher Sands
Deputy Kenneth Shields
Communications Officer Ashley West
Agent Adam Steuerwald
Agent Christopher Williams
Agent Vincent Ziccardi
Agent Tammy Beuer
Sergeant Kent Sellers
Sergeant Harry Cieszynski
Agent Brandon Gish
Deputy Laura Cizmadia
Life Saving Award
This is a distinguished award that means that their actions directly saved the life of a fellow citizen.
Chief Pilot John Coppola
Deputy Jason Holmes
Lt. Dan Singleton
Deputy Frankie Mays
Co-Pilot Mike Ryle
Deputy Brett Cook
Deputy John Decossaux
Deputy Roberto Sosa
Deputy Dan Thrush
Deputy Daniel Hammond
Deputy Patrick Ferguson
Deputy Chaston Williams
Deputy Chaston Williams
Deputy J. McDonel
Deputy James Darville
Corporal Jason Speece
Sergeant Kelly Simpkins
Deputy Kim Holland
Deputy Charles Laroche
Corporal Richard Otranto
Corporal Michael Mazzone
Corrections Deputy Josh Butler
Deputy Jose Santos
Deputy Sondra Sanders
Deputy Robert Aoun
Deputy Kelly McCarty
Deputy Stuart Center
Deputy Gary Wyse
Commendable Service
This award signifies that the recipient has performed a commendable act that is unusual in nature and demonstrates initiative and accomplishment.
Corrections Deputy John Cornelius
Deputy Adam Regan
Deputy Jonathan Kent
Deputy Cliff Webster
Deputy Jacob Rettler
Agent Raonel Barrial
Corrections Deputy Jeffrey McKeehan
CSI Kaitlin Hart
Deputy Peter Gilbert
Deputy Michael Kornhauser
Crew Supervisor Anthony DelDuca
Deputy Adrian Moss-Beasley
Deputy William Hammer
Sr. Admin Assist. Katrina Wilson
Deputy Mike Fletcher
Sr Admin Assist. Amy Moody
Inventory Specialist Glenda Brown
Agent Michael Mazzone
Deputy Juan Vargas
Sgt. Terry Laufenberg
Sgt. Robert Cline
Deputy Ethan Kersey
Deputy Francis Sarivola
Deputy Pedro Germosen
Deputy Francis Sarivola
CSI Candace Matthews
Deputy Ben Hosmer
Deputy Mike Doyle
Deputy Luke Pearson
Crew Supervisor Jimmy Fielding
Deputy Josh Hedleston
Lt. Vic DeSantis
Deputy Kent Guttebo
Reserve Dep Debbie Demers
Deputy Mark Myers
Corrections Dep Lorenzo Hutchinson
Agent Greg Richter
Lt. Paul Ring
Deputy Robert Manley
Agent Joe Martin
Deputy Howard Shelton
Admin Assist. Kerri-Ann McGuire
Agent Carl Sangaleer
Corrections Dep Frederick Mendiola
Sys. Engineer Bill Morrison
Agent Todd Beuer
Deputy Honey Kohn
CSI Kaitlin Hart
Agent Mike Spadafora
Lt. Scott Molyneaux
Agent Brandon Gish
Agent Doug Caskey
Deputy Sondra Sanders
COP Fred Mastin
Deputy Carrie Pyne
Reserve Lt. Francis Cirillo
Agent Greg Richter
Agent Steve Fernez
Deputy Gary Wyse
Sergeant Michael Homer
Deputy Jonathan Sperling
Deputy Jennie Rivera
Deputy Maria Fernez
Deputy Marc Rosenfeld
COP Ann Petrovich
Agent Chris Ryba
Deputy Jason West
Agent James Haman
Deputy Christopher Ryba
Deputy Kent Guttebo
Deputy Stacie Moore
Benefits Coordinator Ron Forknall
Judicial Process Supervisor Barbara Hensley
Deputy Casey Bratsch
Cpl. Domenick Prisco
COP Harry Gordon
Deputy Carmine Siniscal
Deputy Daniel Genova
Deputy Richard Clements
Deputy Tanner Primmer
Agent Jennifer Smith
COP Edwin Sammis
Agent Michael Spadafora
COP Charlie Grimm
Deputy Marc McDilda
Deputy Brandy Torquato
Agent John Jennings
Agent Craig Carson
Crew Supervisor Lauren Donaldson
Corrections Deputy Orlando Segura
Monthly Awards
| | | | | |
| --- | --- | --- | --- | --- |
| | Deputies of the Month | Corrections Officers of the Month | Communications Officers of the Month | Employees of the Month |
| January | Corporal Jason Speece | Corrections Deputy Angela Twigg | Ann BlushLiddi Proctor | Co-Pilot Michael Ryle |
| February | Deputy Dan Thrush | Corporal Robert Getz | Elaine Thompson | Crime Scene Investigator Candace Matthews |
| March | Corporal Sang Hill | Corrections Deputy Jeffrey McKeehanCorrections Deputy John R. Cornelius Jr. | Terriee Kriss | Crime Scene Investigator Kaitlin Hart |
| April | FTO Bret Cook | Corrections Deputy Sharyn Wilson | Nicole Tarbox | Judicial Shift Supervisor Barbara Hensley |
| May | Deputy Raonel BarrialAgent Pete Huminski | Corrections Deputy Frederick Mendiola | Ashley West | Systems EngineerBill Morrison |
| June | Deputy Jeff Cook | Corrections Deputy Christopher Martin | Lance Jackson | Administrative Assistant Amy Moody |
| July | Sergeant Mike Brown | Corrections Deputy Josh Butler | Cheryl Pelletier | Crew SupervisorCharlie Chase |
| August | Deputy Patrick Ferguson | Corrections Deputy Curtis Brooks | Laura Helton | Crew SupervisorGeorge Ninko |
| September | Deputy Bret CookCorporal Matthew HinesDeputy Chris LittleAgent Rob Vitaliano | Corporal Timothy FayField Training Officer Jesse Birch | Ashley WestMichael Kirn | Inventory SpecialistGlenda Brown |
| October | Deputy Jason WestDeputy Thomas CaseDeputy Michael HricisoDeputy Brian Regan | Corrections Deputy Orlando Segura | Terry Myers | Crime Scene Investigator Kaitlin Hart |
| November | Agent Kraig Hupfer | Corporal Richard Otranto | Shawna GriffinTerriee Kriss | Administrative Assistant Kerri-Ann McGuireCrew Supervisor Jimmy FieldingCrew Supervisor Lauren Donaldson |
| December | Agent Dan Ogden | Corrections Deputy Lorenzo Hutchinson | Michele Hriciso | Crew Supervisor Antonio Del DucaCrew Supervisor Mary MosemanCrew Supervisor Lauren Donaldson |
Unit Citations
Honor Guard
Dive Team
K9 Teams
Jail Work Farm
Personnel Unit
20 Years of Service Award
Scott Asbury
Bruce Barnett
John Bradshaw
Virginia Casey
John Caulfield
Tsechu Chou
Michael Doyle
Louis Heyn
Cletis Jones
Melissa Knight
Todd Maddox
Angela Matthews
Adrian Moss-Beasley
Sherry Pope
Brandy Torquato
Andrew Walters
Troy Wilson
25 Years of Service Award
Glenn Andersen
Scott Armstrong
Ricky Blush
Paul Chalko
Robert Cullen
Deborah Demers
Brian Earles
Christopher Hendrix
Michael Qualter
Lana West
Mary Young
30 Years of Service Award
Gloria Brinson
Linda Ciolfi
Dana Doucette