Sheriff Wayne Ivey stated, "I have been truly blessed to be a part of the Brevard County Sheriff's Office for the past year and to witness the incredible achievements of the remarkable men and women of this agency. You will hear a common theme throughout the recognitions, Team Player, Teamwork, Team… A theme I am extremely proud of because it represents absolutely everything your Sheriff's Office stands for. We are a team; no member is more important, no unit is more important, together we stand with our community with one mission, to make Brevard County a better place for all!"
Deputy of the Year
Agent Mike Spadafora has literally rescued countless children from a living nightmare, from locations around the world, most from places where they should feel safe, within their own homes. He has a very unique skill set; he hunts those that prey on our children. He uncovers those that seduce and victimize our children. He brings them from the shadows to face justice! His heart and soul are completely committed to the protection of children, and unfortunately, there are far too many monsters out there!
Agent Mike Spadafora and his counterparts are heroes! I use adjectives such as graphic, terrible, horrible…you get the point, activities that we truly cannot imagine. On behalf of these victims and the hundreds of others you have saved over the past several years, thank you for doing what you do!
His actions are valiant, heroic and dangerous. He often performs his own undercover activities, pitting himself against those who violently abuse others. He does this all for one common purpose, to ensure that every child he rescues will never be abused, exploited or victimized again.
The following is a brief summary of Mike's 2013 accomplishments:
In January 2013, Agent Mike Spadafora initiated an undercover operation in an Internet chat room that caters to persons who have a desire to meet underage children for the purpose of having sexual relationships. Agent Spadafora then electronically communicated with a person later identified as Shuhel Ali who was from the United Kingdom. As horrifying as this may sound, Ali stated that he was looking to start a relationship with a teenage girl for an absolutely unimaginable purpose. Mr. Ali and Agent Spadafora continued to communicate until April 2013, when Ali traveled from the United Kingdom to Brevard County to engage in activities with a child. During this almost four-month operation, Agent Spadafora had to coordinate not only his conversations with the subject, but also the conversations of a civilian employee who was acting in the capacity of Agent Spadafora's fictitious daughter. This employee spoke with Ali on multiple occasions where he described the activities in vivid detail that he wished to commit with this child.
The investigation determined that the subject might have a history of abusing children in different parts of the world. The subject spoke of travelling to several European countries in order to have relationships with children. The investigation revealed that the subject had travelled to these countries, and based on the conversations, there was a belief he had been previously involved in the exploitation of many children.
Since this travel involved multiple countries, the coordination was extremely time sensitive and detailed. Agent Spadafora coordinated this effort while still actively playing the role of the father that the subject would meet when he arrived in the United States.
Mr. Ali eventually traveled from Manchester, England, to the Sanford Airport where he met with Agent Spadafora. Agent Spadafora arrested the subject without incident once they entered Brevard County. Agent Spadafora then authored search warrants for the computer and other evidence found in the possession of the subject. He coordinated with European authorities, and their search of the subject's residence led to the recovery of additional evidence.
Because of the investigative expertise of Agent Spadafora, a very dangerous criminal has been taken off the streets of the world. Ali, by his own admission, has abused children in multiple countries. Were it not for the proactive efforts of Agent Spadafora, this subject would have been roaming the world looking for his next victim.
In an unrelated 2013 investigation, Agent Spadafora observed a Craigslist ad from a poster who was discussing activities with a four-year-old boy and three-year-old girl. As this investigation progressed, the suspect asked that Agent Spadafora and his daughter travel to the suspect's residence where they could trade children. During the online conversation, the suspect then asked for Agent Spadafora's telephone number and called within minutes. During the conversation, the suspect stated at that very moment, he was engaged in criminal activities with his child. Concerned, Agent Spadafora asked to speak with the child. The suspect allowed the child to talk on the phone, which allowed Agent Spadafora to confirm his fears.
Time was critical to rescue the child from further abuse. Agent Spadafora, knowing that online predators will often provide false information to conceal their identities, began researching any and all data to help identify the suspect and his current location. A short time later, the suspect was positively identified and a location in Merritt Island was successfully confirmed by the GAMEOVER Task Force.
The agents then made immediate contact with the suspect. Agent Spadafora conducted an in-depth interview where the suspect confessed to a list of terrible criminal activities, as well as videotaping and photographing encounters that were transmitted to other adults via the Internet. A search warrant was obtained for the residence, which produced vital electronic and physical evidence that corroborated the confession. The suspect then identified other individuals who were committing similar crimes.
Forensic Examiners from the Digital Forensics Unit of the Sheriff's Office assisted with the investigation by collecting and processing the various electronic devices recovered through the investigation. As a result of that effort, an additional suspect from Orlando was identified. The subject was interviewed and confessed to sexually battering his children, as well as producing and distributing child pornography. Three children were rescued from the residence and transported for medical treatment.
The Orlando suspect's investigation identified another predator in Texas that was sexually abusing children and sharing those images on the Internet. Agents executed a search warrant and made contact with the subject, who confessed to sexually battering his young children, as well as producing and distributing child pornography. The children were located inside the residence and rescued.
Agent Spadafora identified an additional suspect living in Melbourne who had previously travelled to the Merritt Island residence and sexually battered the child. Agent Spadafora identified this predator who then provided a full confession to previously sexually battering the Merritt Island victim.
As a direct result of Agent Spadafora's investigation, eight children were rescued from significant and ongoing sexual abuse, which spanned over multiple states. Four suspects have been arrested, each charged with life felonies, both in State and Federal court systems. Additionally, there have been over fifty other suspects identified throughout the country that were involved in the distribution of child pornography. These leads have been sent out to the respective law enforcement agency in each suspects' area. Those investigations are currently still under investigation.
As the above noted investigations were ongoing, Agent Spadafora was conducting an unrelated investigation concerning a suspect posting on Craigslist, advertising a sex tourism business. The suspect, Patrick Minga, a US citizen, indicated that for a fee, he could facilitate lodging, transportation, meals and unlimited access to females from foreign countries. Over the course of several months, Minga arranged the travel of Agent Spadafora from Florida to Quito, Ecuador, where Minga advised that he could provide sexual encounters with children.
Minga then traveled from Ecuador to the United States, where he was met by agents from the Brevard County Sheriff's Office and ICE/HIS, who subsequently arrested him in Huntsville, Alabama. He is currently detained, pending removal proceedings to Orlando for Federal prosecution.
Corrections Deputies of the Year Award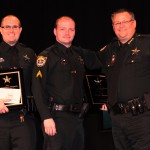 While off duty, Corporal Jason Brimm and Corrections Deputy Barre Taylor witnessed a disturbance at a local retail store. They observed a dangerous situation for not only the store employees, but for the innocent shoppers in the store and those in parking lot, and they didn't hesitate to take action.
In May, Corporal Brimm and Corrections Deputy Taylor were off-duty and entering the Titusville Business. As they approached the entrance, they noticed a struggle between the loss prevention officer and a man attempting to leave with a cart full of unpurchased items. Corporal Brimm identified himself and displayed his badge in an attempt to stop the man from fighting, but the would-be thief refused to comply. Corporal Brimm and Corrections Deputy Taylor then assisted in trying to restrain the man who was violently resisting. The man struck Corporal Brimm with a closed fist to his face several times and struck Corrections Deputy Taylor in the chest with his elbow. Corporal Brimm and Corrections Deputy Taylor then restrained the suspect until a Titusville Police Officer arrived and then assisted him with handcuffing and detaining the man. The suspect was taken to the Brevard County Jail where he was charged with several crimes, to include Grand Theft and Battery.
These two corrections deputies are extremely proactive in the jail and no one was surprised to learn that they are as alert when off duty as they are on duty.
Employee of the Year
Analyst Laura Cline began working for the Brevard County Sheriff's Office in 1998. In 2005, she became a member of a new, elite unit designed to register and track sexual offenders and predators. The re-allocation of analytical personnel to the precincts combined with the unexpected resignation of another analyst left this employee not only as the only analyst in the SORT Unit, but the only analyst to support the entire Criminal Investigative Services. This personnel shortage did not stop the daily stream of offenders and predators who register. Laura continued to provide this important service, as well as analyze the required information for the three databases that are updated on each offender and provide information to municipalities, the state and our investigators to ensure that each offender is properly verified.
The dedication and professionalism displayed by Analyst Laura Cline during this trying period is greatly appreciated. Her responsibilities and duties are always completed timely and effectively, in a manner that exemplifies exceptional performance. Without her experience and dedication to duty, offenders and predators could have fallen through the cracks and evaded verification with the ability to reoffended children in our community.
Communications Officer of the Year
Regina Oliver was selected because of her involvement in two incidents this year. In the first incident, she was commended for the handling of a call where a woman and her son were severely beaten with a baseball bat. Due to the critical injuries, the caller thought she was going to pass her out, but Communications Officer Oliver kept the victim actively engaged in conversation with her calm and compassionate demeanor.
In the second incident, Regina was recognized for her keen observations after she noticed a coworker had received two high priority calls at once. She immediately jumped in to take over one without prompting or delay. She regularly lends herself to peers as a source of information and strives to be an expert in the scope of her duties. She personifies the term team player and is recognized throughout the Communications community as being one of the "best in the business."
Reserve Deputy of the Year
Reserve Deputy Frank Flake came to the Reserve Unit after an honorable and distinguished career with the Brevard County Sheriff's Office. His retirement from fulltime status did not slow him down one bit. His dedication to the agency and the community is just as strong. He can be counted upon any time his services are needed and the training and mentorship he provides to the unit is second to none. His years of experience and leadership have proven absolutely invaluable. He is both an outstanding member of the Reserve Unit and an incredible asset to our agency and citizens.
Partnership Award
The Partnership award recognizes an individual who through their efforts has built partnerships and relationships between agencies to enable and assist those in their time of need. This year's recipient, Accounting Manager Denise Postlethweight, has long been involved in serving Brevard County. She has served on the Executive Board of the Police Athletic League for the past six years, most recently participating in the selection process for the new Executive Director.
When a volunteer was requested to spearhead a non-profit charity concept to benefit First Responders who are experiencing personal hardship, she immediately stepped up and provided the drive and expertise necessary for the development and implementation. She then provided the guidance and support during the six-month process to gain non-profit status for the Brevard County Charities. Fully functioning, this charity can now help those that commit their lives to serving others wile experiencing hardships and circumstances beyond their control.
Whether assisting at risk children or preparing a new pathway to give help to our first line defenders, Denise's compassion and caring for others is being recognized tonight.
Volunteer of the Year
(Posthumously Awarded)
A caring, dedicated, and outstanding citizen are only a few adjectives that can be used to describe this year's Volunteer of the Year. Vince Wilson committed his entire life to make our world a better place. His actions have truly defined and established the standard for a volunteer.
Originally from England, our Volunteer of the Year settled in Florida and began volunteering immediately with the Grant Volunteer Fire Department and Grant Community Club where he personally assisted in the construction of the Club buildings. As member of the Loyal Order of Moose since 1970, he was key in fundraising efforts and for the "Tommy the Moose" concept, where stuffed animals are provided to Sheriff's Deputies for children in need.
Vince has been an active volunteer for the Brevard County Sheriff's Office "Citizen Observer Patrol" program, working in the Grant/Valkaria area for the past six years.
Staffing the front desk of South Precinct, he was the first person the public met every Monday. On Fridays he could be found patrolling in the COP squad car. During 2013, he supported the citizens of Brevard County by volunteering 418 hours in only eight months, all at the tender age of 90.
In October of 2013, our Volunteer of the Year moved on to serve in another capacity. He was incredibly dedicated, sharing his love and friendship to all. Accepting on his behalf is his beautiful wife Geraline.
Citizen of the Year
This next award is for someone who is not a member of our agency, but who we want to recognize for the incredible work he has done within the community. This year's ceremony has been dedicated to all those who either have, or continue to serve in our military, and our next honoree fits that bill.
George Taylor Sr. joined the Army at 17, serving in the 82nd airborne for 2 years and extending his service to be a paratrooper. In April 1969, just 19 years old, he found himself in the jungles of Vietnam. For over a year he cleared the jungle paths and secured the front lines.
In April of 1970, he came home, but the war had taken its toll, and his mind was full of combat and distress. In those days, PTSD was barely spoken of, or even acknowledged. Like many others who came home suffering, he just wandered…. for years.
20 years later, he eventually accepted help from family, he was one of the very first veterans treated at the VA center in Miami for PTSD. After receiving treatment, he began to understand the nature of the illness and wanted to help others, working for the advocacy of homeless veterans. He knew that his story, the story of a young man seeking purpose and a position of honor by supporting his family, his community and his country, only to find the horrors of war, the humiliation of PTSD, and a country that couldn't understand.
In the years that have followed he has fought loudly for our homeless heroes, so loudly that the country started to pay attention. His voice brought help and awareness, led to positive legislation, always presenting veteran affairs as a top priority.
In March of 2008, he founded the non-profit organization National Veterans Homeless Support, Inc. after considering the staggering data from the Dept. of Veteran Affairs, which identified there were over 1,200 homeless veterans living in the woods and parks throughout Brevard County. With amazing support from the community, he and the NVHS have set new sights on a way to help transition our homeless veterans back into society.
This man had the audacity to make it happen!
Lucy Ross Award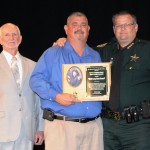 In 2004, Sergeant Lucy Ross was taken from us as she was responding to a crime scene. Lucy was very special to all of us. One of the ways we celebrate her life is through the recognition of a very special person in the Sheriff's Office who demonstrates the same qualities as Lucy – qualities such as dedication to the community, the attainment of excellence in her profession, and the love of children. Beginning in 2005, the Brevard County Sheriff's Office established a very special annual award known as the Sgt. Lucy Ross Award.
Crew Supervisor Kurt Kolczynski has positively impacted the lives of over 5,000 Brevard County children, serving for the past 13 years as the president of Brevard County's Youth Football and Cheerleading Organization. In this unpaid position, Kurt oversees twelve youth football leagues, scheduling and supporting over 500 regular season games, 30 playoff games and eight Super Bowl games, as well as scheduling and coordinating referees and volunteer support staff. He is responsible for meticulously supervising the management and allocation of funds, facilitating support efforts, and overseeing contracts for referees and vendors. He is also responsible for reviewing the validity of certifications for referees, coaches and volunteers to ensure the safety and well-being of the children. Kurt leads by example, ensuring sportsmanship, teamwork, positive conduct and self-esteem of both the participants and parents.
Kurt also volunteers as the Master of Ceremonies for the Annual Cheerleading Event and Competition, entertaining hundreds of Brevard County's cheerleaders and their families at each event.
He supports the Bright Futures Scholarship program by organizing and assigning volunteer assignments for Brevard County schools, documenting hours and actively mentoring seven of Brevard County's "at risk" students by serving as their advisor for educational, financial and college planning. He also serves as a liaison between college recruiters, student athletes and parents.
Crew Supervisor Kolczynski actively participates in the Sheriff's Office Shop with a Cop program, ensuring that children, whose families who are experiencing hardship can receive a very Merry Christmas. Additionally, he volunteers his time as co-driver for the Brevard County Sheriff's Office Christmas Parade float for parades in Titusville, Merritt Island, Port Saint John and Palm Bay, sharing the joy of the Holiday season countywide, and the Handlebars for the Holidays Bike Give-Away resulting in over 190 children in need receiving bicycles, helmets and locks for Christmas.
Courage Award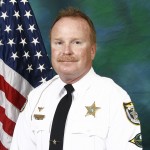 One of my privileges as being your Sheriff is the opportunity to really get to know the most important resource this agency has to offer, the lifeblood of this agency, the employees and volunteers. So many of you have touched my heart with what you give to this profession and that is why we have created a new award, the Courage Award, which honors an agency member who is committed to the safety and welfare of others, while protecting and serving the citizens of Brevard County despite the most difficult of personal circumstances.
The inaugural recipient, Deputy Dan Thrush, began his career with the Brevard County Sheriff's Office in January 1996 as a Patrol Deputy, and in 1999 was assigned to the Motor Unit. Anyone who knows him knows that the two great loves of his life are his beautiful wife and being a Deputy Sheriff assigned to the Motor Unit. He is a Police Motorcycle Instructor and has participated in countless escorts, including presidential motorcades over the years.
To most, he is known for his daily demonstration of being a consummate professional, his teamwork, his friendship. He is willingness to help others, displaying empathy for his fellow man. What most of you probably don't know is that for the past several years, he has been fighting a courageous battle against cancer. He never speaks of his pain or hardship, set-backs or treatments. If you ask him how he's doing, you'll always get a smile, see a twinkle in his eye and hear him say, "One day at a time… How are you and your family doing?" His courage and perseverance in the face of adversity is an inspiration to all who know him. He confronts each new obstacle with strength, motivation and a remarkable sense of humor and grace.
"Live Saving Awards"
Deputy Luke Pearson & Deputy James Roemer
Deputy Jeremy Flake & Deputy Daniel Genova
Deputy Jeremy Flake, Deputy Jorge Lopez, Deputy Scott Stewart
Sergeant (retired) Mike Brown
Agent Thomas Mulligan
Corporal (retired) Charles Pfrimmer
Deputy Craig Adelman
Deputy Danielle Stitt
Corporal Jerry Shealy
Deputy Greg Darville & Deputy Jayne Lytle
Deputy Paulette Steward
Deputy Ron Smith
"Meritorious Service Award"
Deputy Jeremy Hart & Corporal Robert Manley
Deputy Matthew Preston & Deputy Justin Wood
Deputy Nicholas Walker
Deputy Richard Lemons
Deputy Kyle Scott
Corporal Jason Brimm & Corrections Deputy Barre Taylor
Agent Jay Church & Agent Adam Steuerwald
Agent Troy Deavers & Agent Dan Ogden
Agent Jason West
Agent Kristen Fettes, Agent Kraig Hupfer, Agent Adam Steuerwald
Agent Marlon Buggs, Agent Kirk Geweniger, Sergeant Carlos Reyes, Analytical Support Specialist Laura Cline
Agent Mike Spadafora (x 2)
Agent Joseph Martin
Identification Unit Supervisor Tina Ringfield
Sergeant Robert Vitaliano and Senior Staff Assistant Jean Palmer
Agent Chris Cardinal, Agent Ethan Kersey and Corporal Keith Grosse
Agent Kraig Hupfer
Corporal Jason Brimm
Deputy Ronald Smith
Deputy Chase Jicha, Deputy Richard Lemons, Deputy James Simon, Deputy Mark Spencer, Sergeant Francis Sarivola
20 Years of Service
Donald Bernier
Jay Core
Shawn Crook
Paolo Donisi
Roger Johnson
Yvonne Miller
Scott Molyneaux
Charles Parrott
Judy Robinson
Robbie Stokes
Ross Torquato
25 Years of Service
Gary Anderson
Donald Barker
Bonnie Canada
Scott Carson
Eric Daddow
Alex Fischback
Frank Hickman
Sang Hill
Debra Holt
Charles Pfrimmer
Greg Purden
Deborah Rainey
Robyn Rasch
Greg Robertson
Brian Seeley
Michael Williams
30 Years of Service
Wayne Doler
Fernando Dominicis
Paul Drinkwater
Tim Pemberton
Scott Pikus
Mike Scully
Kent Sellers
Ken Willis
35 Years of Service
David Fitch
Rocky Roblin
Communications Officers of the Month
January – Communications Officer Antonio Berrios
February – Communications Officer Nicole Tarbox
March – Communications Officer Antonio Berrios
April – Communications Assistant Shift Supervisor Sara Arias
May – Communications Officer Regina Oliver
June – Communications Officer Amanda Barber
July – Communications Officer Regina Oliver
August – Communications Officer Antonio Berrios
September – Communications Assistant Shift Supervisor Sara Arias
October – Communications Officer Marsha Guido
November – Communications Officer Monica Pettit
December – Communications Officer Nicole Bernhard
Employees of the Month
January – Senior Staff Assistant Jean Palmer
February – Jail Records Manager Jessica Vanatta
March – Crime Scene Investigator Kaitlin Pill and Crime Scene Investigator Lisa Connors
April – Senior Staff Assistant Amy Moody
May – Analytical Support Specialist Laura Cline
June – Crew Supervisor Kurt Kolczynski
July – Crew Supervisor Mary Moseman
August – Account Clerk Gloria Brinson
September – Patrol Support Specialist Angela Williams
October – ​Media Specialist Cheryl Sink and Crew Supervisor Jimmy Fielding
December – ID Supervisor Tina Ringfield
Corrections Deputies of the Month
January – Corrections Deputy Jason Lewis
February Corrections Deputy Christine Bisbee
March – Corrections Deputy Donald Bernier
April – Corporal John Courtney
May – Corrections Deputy Mark Orndoff
June – Corporal Noel Remillard and Corrections Deputy Michael Ingram
July – Corrections Deputy Barre Taylor and Corporal Jason Brimm
August – Corrections Deputy John Cabrera
September – Corrections Deputy Vere Samuel
October – Corrections Deputy Antwan Price
November – Corrections Deputy Corinne Viscardi ​​and Corrections Deputy April Strother
December – Corporal Jason Brimm ​​and Corrections Deputy Robert Brown
Deputies of the Month
January – Deputy Justin Wood and Deputy Matthew Preston
February – Agent Thomas Mulligan
March – Corporal Keith Grosse
April – Deputy Richard Lemons
May – Agent Daniel Ogden
June – Agent Nicholas Walker
July – Corporal Jerry Shealy
August – Agent Marlon Buggs and Agent Kirk Geweniger
September – Agent Michael Spadafora
October – Deputy Laura Lytle And Deputy Greg Darville
November – Deputy Ronald Smith
December – Agent Kraig Hupfer