Judicial Process consists of Warrants, Teletype, Enforceable Civil Process, Non-Enforceable Civil Process, and Validations.
The Judicial Process Unit is responsible for fulfilling the Sheriff's constitutional responsibilities as the keeper of Criminal and Civil Process.
The Judicial Process Criminal Process Unit operates 24 hours a day, 7 days a week, receiving, processing and maintaining all felony and misdemeanor warrant documents and associated warrant records.
The Unit is responsible for all warrants and wanted persons requests via radio, phone, and Teletype to all Law Enforcement Officials in state and out of state. In addition, the unit is responsible for arranging all in-state prisoner pickups, and all out-of-state fugitive extraditions.
The Judicial Process Civil Unit process includes civil and criminal witness subpoenas, writs and executions. This Unit operates Monday through Friday from 0800 hours to 1700 hours, with three locations for convenient service.
Criminal Process
Felony & Misdemeanor Arrest Warrants
Felony Capias
Misdemeanor Summons
Writ of Bodily Attachment
Teletype is also included in our Criminal Process
Radio Dispatch for Wanted Persons, Driver's License, Tag's and various other requests by Deputies, and other Law Enforcement Offices
Civil Process
Civil & Criminal Witness Subpoenas
Writ of Possession (Eviction)
Writ of Replevin (Repossession of Property)
Writ of Execution (Civil Judgments)
Ex-Parte Baker and Marchman Acts
Domestic Violence Injunction for Protection
Repeat/Dating Violence Injunction for Protection
Click here for Frequently Asked Questions Regarding Civil Process
Warrants information is for Law Enforcement use only and will not be released by either of these offices by telephone to the public.
To find out if you or someone else has an existing warrant, you can go to Wanted Persons Search provided by the FDLE website. You may contact the Clerk of Courts at (321) 637-5413 for Brevard County warrant checks.
Civil Process
Enforceable Civil Processes include but are not limited to the following:
Injunctions for Protection
Writs of Execution
Writs of Possession
Writs of Replevin
Writs of Attachment
Writs of Bodily Attachment
Ex-Parte Baker and Marchman Acts
Brevard County Sheriff's Deputies serve all Civil Enforceable Processes.
FEES for Civil Process
In accordance with Florida State Senate Bill SB-412, which was passed on 06/24/09, the Brevard County Sheriff's Office will be changing its Fees for Civil Process EFFECTIVELY JULY 1, 2009 as follows. (SEE REVISION AS IT RELATES TO HOUSE BILL 627 (2014)
Still fixed and

non-refundable

Summons (except executions) – $40.00 per person

As of July 1, 2014 House Bill 627 (2014) which relates to Service of Process authorizes a Sheriff to charge a $40 fee for each summons served instead of a $40 fee for serving multiple summons at the same time.

**Alias and Pluries services will now be – $40.00 per person
WITNESS SUBPOENAS(for each witness to be served) – $40.00
LEVY – $ 50.00 (is considered made when any property or any portion of Property listed or unlisted in the instructions for Levy is Seized, or upon demand of the Sheriff the writ is satisfied by the defendant in lieu of seizure. Seizure requires the Sheriff take actual possession, if practicable, or, alternatively, constructive possession of the property by order of the court).

Examples:

Writ of Replevin – $90.00
Writ of Possession – $90.00
Writ of Attachment – $90.00
Civil Writ of Bodily Attach – $90.00

EXECUTIONS FEES:

Processing writ and preparing file (formerly docket/index) – $40.00
Levy (one fee allowed unless property seized at different locations) – $50.00
Preparing Advertisement – $40.00
Holding Sale – $40.00
Sheriff's Deed/Bill of Sale each – $40.00
Certified Mailing – actual cost
Court filings – (clerk's fees)
Storage and haulage – actual cost
Other services as required (locksmith, electrician) – actual cost
All Writs of Execution are processed in the Main Judicial Process Civil Office at 700 S. Park Ave., Titusville, FL 32780.
The Sheriff's Office requires the following documents to proceed with a Writ of Execution:
The Writ of Execution
Instructions for Levy
If personal property that is titled, Proof of Ownership
If real property, copy of the Warranty Deed to prove ownership and affidavit from attorney
Creditor's Affidavit
Cost Deposit. These vary depending on what you are taking, please call.
Judgment Lien Certificate
Final Judgment
ADVANCED COST DEPOSITS FOR EXECUTIONS: Change In Rates Effective February 1, 2011
Examples of Fees: These vary depending on what you are taking, please call.
Minimum Cost Deposit Of $2,300 – Small Vehicles, Motorcycles, Small Trucks, Small Boats.
Minimum Cost Deposit Of $2,800 – Large Vehicles; Motor Homes, Semi's, Tractor Trailers.
Minimum Cost Deposit Of $1,000 – Real Property; Stocks, Bonds, Jewelry.
Personal Property: Office Furnishings; Businesses: Price To Be Determined On Quantity Of Items Being Levied. An Inventory List Will Need To Be Seen Before An Amount Is Determined. ** Larger Boats, Heavy Equipment Etc., To Be Determined On The Situation.
Please Call Our Civil Process Unit For Any Questions That You May Have (321) 264-5207.
Please check the newspaper The Reporter for items up for auction, with dates and times.
NOTE: SERVICE FEES MUST BE FOR THE EXACT DOLLAR AMOUNT. ALL FEES COLLECTED SHALL BE NON-REFUNDABLE AND SHALL BE EARNED WHEN EACH ORIGINAL REQUEST OR SERVICE OF PROCESS IS MADE. THE BREVARD COUNTY SHERIFFS OFFICE JUDICIAL PROCESS UNIT WILL NOT TAKE PERSONAL CHECKS AS A FORM OF PAYMENT. ACCEPTABLE FORMS OF PAYMENT ARE MONEY ORDERS, BUSINESS CHECKS, BANK DRAFT, CREDIT CARDS, OR DEBIT CARDS.
NOTE: FEES CHARGEABLE TO THE STATE OR ITS AGENCIES SHALL BE THOSE FEES THAT WERE EFFECTIVE UNDER THIS SECTION ON JUNE 30, 2009. For information on how to process an eviction, please contact the Brevard County Clerk of the Circuit Court; they have eviction packages available to assist you. The Civil Office staff can not give you legal advise on any matter.
Validation's Unit
Validation's acts as a check and balance for the unit. It is dedicated to maintaining FDLE standards for all data entries within the unit such as warrants, and civil for audits by FDLE and the FBI. All Teletype entries must be correct in accordance with the deputy's case reports and warrant entries must be correctly entered in accordance to the document.
---
Main Office Location:
700 South Park Ave, Bldg D
Titusville, Florida 32780
Phone: 321-264-5207
Open 8:00am – 5:00pm M-F
---
Viera Office at Moore Justice Center (Viera Courthouse):
2825 Judge Fran Jamieson Way
Viera, Florida 32940
Phone: 321-617-7250
Open 8:00AM-12:00PM & 1:00PM-5:00PM, M-F
---
Merritt Island Service Complex
Temporarily Closed
---
Melbourne Service Complex
Temporarily Closed
---
These offices do not issue court documents, but acts on behalf of the Courts. For question pertaining to Clerk of Courts procedures and fees contact the Clerk of the Courts at (321) 637-5413 or go to www.brevardclerk.us.
Brevard County Courthouses
For Driving Directions see the 18th Judicial Circuit website.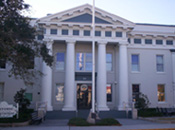 Vasser B. Carlton Historic Titusville Courthouse
504 Palm Ave
Titusville, FL 32796Map It
---
Harry T. & Hariette V. Moore Justice Center
2825 Judge Fran Jamieson Way
Viera, FL 32940Map It
---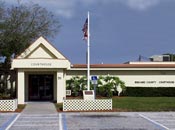 South Brevard Courthouse
51 South Nieman Ave.
Melbourne, FL 32901Map It