The Sheriff's Bike Program provides refurbished, abandoned or unclaimed bicycles to those in need. The bicycles are reconditioned using Jail inmate labor. After the bicycles are completed they are donated to Sharing Centers throughout Brevard County, who give them, without any cost, to local children for Christmas, Holiday, and Birthday presents and to adults that need a bike as their primary means of transportation.  For more information about the program, please contact Walter Tarkelly at 321-258-8625.
How to Donate a Bike
In conjunction with local garbage collection firm, "Waste Management", you can donate your bicycles and arrange free pickup by calling (321) 723-4455 or (321) 636-6894.  A Waste Management associate will come by, pick up the bicycles and have them delivered to the Sheriff"s Office work farm for reconditioning. (Please note, Waste Management must be your service provider and bicycle pickup is for residential customers only.)

Citizens can also donate a bike, regardless of its condition, by dropping it off at the Sheriff's Work Farm located at 2955 Pluckebaum Road in Cocoa, 7 days a week from 7:00am-3:45pm.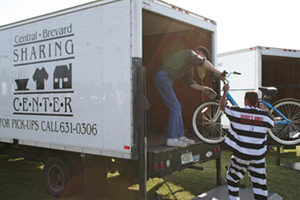 To find out how to receive a refurbished bike, contact your local Sharing Center:
North – 321-269-6555
Central – 321-631-0306
South – (Melbourne) 321-727-8581