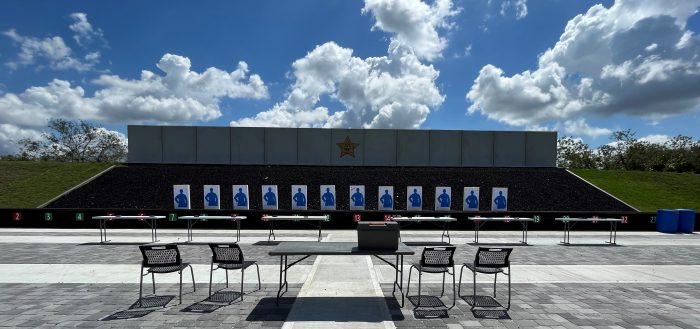 Brevard County Sheriff's Office is happy to offer a "Self Defense Through Tactical Shooting & Decision Making" Course. This 8 hour course is designed to give civilians the opportunity to learn safe gun handling skills as well as the legal aspects of gun ownership. The course will be delivered in 4 parts:
Part 1 – Sheriff Wayne Ivey or designee will speak on Self Defense Through Mental Preparedness
Part 2 – Brevard County Sheriff's Office Legal Team will speak on the Law-Stand Your Ground and the Castle Doctrine
Part 3 – Tactical Shooting/Weapon Retention/Firearms Safety
Part 4 – Shoot, Don't Shoot Scenarios
Upon completion of this course, you will receive a certificate as verification of training that satisfies the State training requirement to acquire your Concealed Weapons Permit from the State of Florida. You can contact the Florida Department of Agriculture and Consumer Services Division of Licensing at (850) 245-5691 for further information about the permit process. Concealed Weapons Packets can also be picked up at your local precinct. Click here to find the precinct nearest you.
Requirements & Other Information
Must be 21 years of age or older and pass a background check.
Serviceable Unloaded handgun (No sharing and No Long Guns)
100 rounds of factory Ammunition (no re-loads)
Eye protection, ear protection and hat
Inclement weather gear (recommended)
Enroll by mailing the registration form and a $99.00 check or money order to:
(You may not use the "pay online" option for this program)
Brevard County Sheriff's Office,
Attention: Career Development Unit
700 Park Avenue
Titusville, FL 32780.
Money is non refundable. Check should be made payable to: Brevard County Sheriff's Office.
Download the Registration Form (PDF Printable version)
Your check and registration form must be received in our office no later than 10 days prior to class date to be enrolled. Once we receive your payment and registration information, you will receive confirmation of enrollment and directions to the firing range.
Self Defense Through Tactical Shooting & Decision Making
Upcoming Classes
2023 Class schedule
More dates to be announced soon!!
---
Self Defense Through Tactical Shooting & Decision Making-On STEROIDS
All applicants must take the original Self Defense through Tactical Shooting and Decision Making Course and provide a copy of your original certificate.
Training Provided by Brevard County Sheriff's Office Career Development Unit
Topics Covered: How to protect you and your family against violent criminals, Firearms Safety, Safe Handling/Manipulation of a Firearm.
How To: Reload quickly and safely, Shoot quickly and accurately, Draw from a holster or concealed carry purse, Shoot at moving targets, Shoot from a seated position, Defend yourself against multiple targets, MILO Simulator.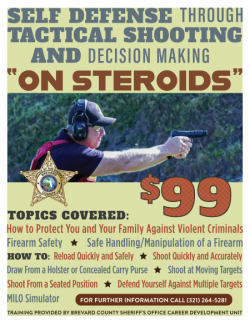 Upcoming Classes
---
If you have questions regarding this course, please contact the Career Development Unit at (321) 264-5281.