Deputy of the Year Award
In 2005, BCSO recognized 3 Deputy Sheriffs with the 2005 Deputy of the Year for their heroic actions. Deputy Shannon Griffin, Corporal Brian Adams, and Deputy Barrett Bright were selected to receive this prestigious award for the incredible efforts to save three accident victims who had been trapped underwater in a canal along the Sarno Extension. Not hesitating, the deputies who were the first emergency responders to arrive, dove into the frigid, zero visibility water of the canal to attempt to extricate the trapped parties from the submerged and overturned vehicle. At significant personal risk to themselves, these deputies made continuous efforts to break out the windows of the vehicle, enter into the submerged car and attempt to locate the remaining victims. All three of the trapped victims were ultimately located and removed from the car. In addition to being selected as our 2005 Deputies of the Year, each Deputy was also recongnized with the Agency's highest honor…the Medal of Valor.
Corrections Officer of the Year Award
Glenn Stout
While enroute home at the end of his long shift Officer Stout observed an armed female in the Canaveral Road and East Railroad area attempting to kill herself. She discharged the firearm in an unsuccessful attempt to kill herself. She was in the process of placing the gun back to her head to attempt another shot when Stout intervened. Using excellent negotiating and communication skills, he was able to talk this individual into putting the weapon down. After which, he was able to safely take her into custody without harm to himself or the young lady.
In addition as being selected as the 2005 Corrections Officer of the Year, he also has been recognized as the runner-up for the 2005 Corrections Officer of the Year for the entire State of Florida by the Florida Sheriff's Association; and as Police Officer of the Year by the Brevard County Association of Chiefs of Police.
Employee of the Year Award
Eryn Kelsey-Adkins
In March 2005, Eryn was asked to convert the old jail training records, which were located on floppy disk, to a computer program that would streamline entry and retrieval information of the training records at the jail complex. In a very short period of time, she created and designed a very user-friendly computer program. With this program, training information can now be entered faster with less work, certificates for attendees can be automatically printed, class rosters generated and individual and class records accessed …all with minimal work by the person needing the information. If not for the improvement created by this individual, an additional position would have been needed costing citizens' money unnecessarily. Eryn is widely recognized by those that work with her as one who is always kind, always friendly and always gives 100 % to help others.
Lucy Ross Award
Lt. Mike Qualter
The Lucy Ross Award is presented to the employee (sworn or non-sworn) who best exemplifies the outstanding qualities and spirit of our lost family member, Sergeant Lucille Ross. Throughout her career, Lucy demonstrated an unwavering dedication to community service and excellence in her profession. Lucy was a genuinely compassionate person who never hesitated to assist others in need, regardless of her relationship to them or their station in life. This quality was most prevalent when dealing with crime victims or their families. Despite the rigors and demands of her work, Lucy could always be counted on to arrive with a cheerful disposition and work without complaint. Lucy can most adequately be described as possessing the unique quality that allowed her to make people feel better, regardless of their circumstances. This award recognizes the BCSO family member, who throughout this year, has best honored Lucy's memory by demonstration of these same qualities and has been nominated by his or her co-workers.
Lieutenant Qualter has devoted most of his 20-year career to handling child abuse issues and investigations. For 10 years now, Mike and his wife Vicki have been involved with Helping Innocent Kids End Abuse Today H.I.K.E. A.T.
Mike and Vicki have hike 200 miles up the Appalachian Trail each year for a total of 2,167 miles. All proceeds go to abused and at-risk Children, Camp Chance and Children's Advocacy Center. As stated by Cmdr Waller, "Mike is not only an outstanding employee, but a true emissary for this agency. He represents all the finest attributes Lucy exhibited."
Reserve Deputy of the Year Award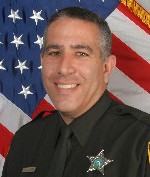 Deputy David Lewis
For several months in 2005, the West and Canaveral Precincts experienced manpower shortages for various reasons. Reserve Deputy Lewis never hesitated to work extra hours to assist in the coverage. Since June 2005, Deputy Lewis has volunteered 454 hours to cover shortages on the road in West and Canaveral Precincts. He has issued 181 citations, 93 written warnings and arrested 20 individulas for various violations. In an effort to better his patrol capabilities, David has recorded an additional 40 hours of training. All this is being done in addition to him working full time at his civilian job. Deputy Lewis comes to work with enthusiasm and without complaint. He is truly dedicated to the Brevard County Sheriff's Office.
Volunteer of the Year Award
Robert "Bob" Torano is a citizen volunteer at the West Precinct. He has been involved with the Sheriff's Office since 1999 and has dedicated hundreds, if not thousands of hours to this office. Bob spends the majority of his time working the desk, but very capably performs a variety of important tasks in the community and around the precinct. According to his co-workers, West Precinct has become somewhat reliant upon Bob and when he infrequently takes "approved" time off, he is truly missed.
Citizen of the Year Award
Each year BCSO recognizes a special person in our community who has dedicated their life in Brevard County to reduce crime, reduce juvenile delinquency and provide a better a safer Brevard County for our children.
Jan Lokay, President of Crosswinds Youth Services was selected for this year's Citizen's Award. She has served as the President/CEO of Crosswinds for many years.
Crosswinds was recognized two years ago as then best organization in America serving runaway, homeless, and other youth in crisis. Crosswinds was further honored by Governor Jeb Bush two years ago as "a rare type of non-profit organization. It runs itself with the precision and efficiency of a business while staying true to its core mission to help young people and their families… with life changing and life saving services." Last year alone, Crosswinds provided services to about 4,000 Brevard County youth. The real key to the tremendous success of Crosswinds is the incredible leadership of the president of the organization. There is no doubt many children, most likely thousands, have been kept out of prisons or protected from harm because she is at the helm of this wonderful organization.
Community Service Awards
Debbie Edwards
Corrections Officer Debra Sherrod
Deputy Raonel Barrial
Commendable Service Award
Deputy Todd Holland
Deputy James HamanCorporal Terry Bartnik
Deputy Wendy Miller
Deputy Adam Pearson
Deputy Jason Speece
Deputy Christopher Shephard
Deputy Marc DeLaughter
Deputy David Felker
Field Training Officer Deborah Rainey
Deputy Jonathan Kent
Deputy Marl Medley
Correction Officer John Cornelius
Deputy Jason Cooper
Deputy Justin Gould
Corrections Officer Noel Remillard
Deputy Frank Sarivola
Deputy Jason Hart
Corrections Officer Bobby Gardner
Sergeant Rocky Roblin
Deputy Raonel Barrial
Corrections Officer Michael Brickner
Deputy Brian Fearon
Deputy John Hall
Field Training Officer Michael Bieri
Deputy Darryl Osbourne
Pam Rios
Telecommunicator Angelina Velten
Deputy Kelly Simpkins
Alan Romeo
Reserve Deputy David Lewis
Sergeant Scott Behringer
JoLynn Dempsey
Field Training Officer Aja Stake
Corporal Robbie Stokes
Deputy Sara Kane
Field Training Officer William Haggerty
Deputy Orlando Vecchio
Michelle Torres
Corporal Mitchell Boshnack
Deputy Robert Williams
Agent Jason Dymond
Corporal Mitchell Boshnack
Deputy John Whigham
Deputy Joanna Ross
Lieutenant Toni Merritt
Deputy Jason Cooper
Deputy Tola Baum
Corporal Brenda Deans
Agent David Madsen
Jennifer Moore
Deputy Mike Matteson
Deputy Ryan English
Deputy JJ Cooper
Deputy Marl Medley
Corporal Jason Diogo
Deputy Scott Pikus
Deputy Ken McClenahan
Deputy Sylvester Harris
Corporal Kelly Smith
Deputy Steve McNatt
Deputy Carl Sangeleer
Agent Brad Thomas
Deputy Greg Richter
Deputy John Cizmadia
Deputy Jason West
Corporal Brett Moore
Deputy John Cizmadia
Eryn Kelsey-Adkins
Agent Gary Harrell
Deputy Christian Bear
Deputy Jeffrey Ludwig
Sergeant Bruce Barnett
Deputy Eric McClellan
Deputy Charles Levi
Deputy Aja Stake
Deputy Danial Wuchte
Agent Paolo Donisi
Agent Jacqueline Hearon
Deputy James Haman
Deputy Marie Clark
Deputy Todd Holland
Agent Scott Molyneaux
Agent Todd Calhoun
Deputy Anthony Cettina
Agent Randy Holliday
Agent Kevin Roberts
Field Training Officer Jeff Harper
Agent Dan Singleton
Deputy Barry Liford
Corporal Ross Torquato
Director Orville Clayton
Corporal Jack Ehrig
Field Training Officer Alan Confreda
Deputy Raonel Barrial
Corporal Brett Moore
Deputy Robert Kramer
Corporal Gene Hope
Corporal Mike Green
Deputy Todd Holland
Deputy Brian Bomba
Deputy Todd Beuer
Lieutenant Victor DeSantis
Deputy Sean Fontaine
Deputy Raonel Barrial
Corporal Anthony Montuori
Agent Marlon Buggs
Deputy Christian Williams
Judicial Support Officer Susan Etling
Agent Scott Molyneaux
Deputy John Whigham
Telecommunicator Sarah Arias
Sergeant Kent Sellers
Corporol Mike Green
Commander Paul Drinkwater
Deputy John Jeffreys
Deputy Barbara Pill
Deputy Ken McClenahan
Deputy John Jeffreys
Deputy Ken McClenahan
Joanne Homer
Deputy Edwin Rosado
Deputy Anthony Cettina
Merit Bar Awards
These recipients were awarded Bar of Merit for outstanding duty performance. They have displayed unusual thoroughness, determination, and initiative while carrying out thier duties.
Deputy Brian Greene
Agent Kraig Hupfer
Agent Brian Guilford
Deputy Adam Pearson
Lieutenant John Coppola
Deputy Charles Weaver
Deputy Gregory Richter
Deputy Barbara Pill
Deputy David Felkner
Crime Prevention Officer Pam Connor
Deputy Ben Wheeler
Deputy Paul Roman
Crime Prevention Officer Kelly Sattley
Deputy Todd Beuer
Agent Anthony Brannon
Crime Prevention Officer Julie Torpy
Deputy Craig Carson
Deputy Joseph Martin
Corrections Officer Glenn Stout
Deputy Jerry Shealy
Deputy Mike Helms
Corporal Tisha Drinkwater
Corporal Ray Seigel
Corporal Ross Torquato
Field Training Officer Gary Lyons
Wound Bar
Life Saving Award
Recipients of this award have helped members of our community when thier lives were at risk.
Deputy Robert Cline
Deputy Mike Helms
Corporal Ray Seigel
Field Training Officer Mike Bieri
Agent Jackie Hearon
Deputy James Board
Field Training Officer Victor Velez
Sergeant Ronnie Crane
Sheriff Jack Parker
Deputy Harry Cieszynski
Deputy Brian Lancaster
Corporal Geri Barringer
Corporal Terry Bartnik
Unit Citations
Canaveral "B" Squad
Sgt. Mike Bradshaw, Cpl. Mitch Boshnack, Deputy John Moore, Deputy Pete Germosen, Deputy Brian Lancaster, Deputy Steve Fernez
West Precinct General Crimes Unit
Sgt. Terry Worthy, Agent Steve McNatt, Agent Paolo Donisi, Agent Ron Little, Agent Vince Ziccardi, Agent Don Dalton
South Precinct "C" Squad
Sgt. Rob Lape, Cpl. Thomas Mosebach, Deputy Paul Roman, Deputy Justin Gould, Deputy Gregory Richter, Deputy Bradley Fairman
South Precinct "C" Squad
Sgt. Rob Lape, Cpl. Thomas Moseback, Deputy Paul Roman, Deputy Justin Gould, Deputy Gregory Richter, Deputy Bradley Fairman
East Precinct "D" Squad
Deputy Cynthia, Deputy Fernando, Deputy Darryl Osborne, Deputy Natasha Daddow
Transportation Unit
Deputy Erik McClellan, Deputy Charles Levi, Deputy Dan Wuchte, Deputy James McClellan, Deputy David Kenworthy
Warrants Unit
Mary Ann Hinkle, Kimberly Benson, Robyn Rasch, Barbara Hensley, Linda Carter, Nichelle King, Barbara Dail
Warrants Unit
Paul Miller, Suzzie Ascosta, Wendy Milano, Doris Jackson, Rebecca Wallen, Nena Carmany, Julie Freeman
East Precinct "C" Squad
Sgt. Jenkins, Sgt. Chambers, Cpl Seigel, Deputy Johnson, Deputy Bosnyak, Deputy Whigham, FTO Confreda, Deputy Cooper, Deputy McCarty, Deputy Matteson, Deputy J. Ross, Deputy Charest
Booking Team "A"
C/O James Cochran, C/O Brock Maggie, C/O Anthony Maiorino, C/O Ronda Popelka, C/O Kimberly Freeman
Canaveral Precinct "D" Squad
Deputy David Lewis, Sgt. Pat Deen, Cpl Dan Gibbons, Cpl. Jan Van Meir, FTO Victor Velez, Deputy Tracy Morell, Deputy Rod Stewart
Aviation Unit
Lt. John Coppola, Sgt. Mitch Young, Deputy David Altman, Deputy Chris Sands, Deputy Michael Ryle
Agriculture/Marine Unit
Sgt. Randy Goodyear, Cpl. Gene Hope, Deputy Byron Grosse, Deputy Evan Hightower, Deputy Scott Harris, Deputy Jim Troup, Deputy Ken Willis, Secretary Sunshine Miller
Aviation Unit
Lt. John Coppola, Sgt. Mitch Young, Deputy David Altman, Deputy Chris Sands, Deputy Michael Ryle
Agriculture/Marine Unit
Sgt. Randy Goodyear, Cpl.Gene Hope, Deputy Byron Keck, Deputy Keith Grosse, Deputy Evan Hightower, Deputy Scott Harri, Deputy Jim Troup, Reserve Deputy Ken Willis, Secretary Sunshine Miller
South Precinct "E" Squad
Lt. Diane Clark, Cpl. Brett Moore, FTO Stephen Fernez, Deputy Jennifer Smith, Deputy Harold Weaver, Deputy Brian Bomba, Deputy Ben Wheeler and Dustin, Deputy Justin Gould, Deputy Greg Richter
Crime Scene Unit
Hope Spadafora, Lisa Saylor, Candace Matthews, Celia Mahler
Dive Team
Cmdr. Stephen Salvo, Sgt. Alex Fischback, Sgt. Randy Goodyear, Sgt. Eric Daddow, Cpl. Scott Pikus, Agent Douglas McCary, Deputy Todd Beuer, Deputy Tammy Beuer, Deputy Cliff Webster, Deputy Michael Biecker
South Precinct "E" Squad
Lt. Diane Clarke, Cpl. Brett Moore, FTO Stephen Fernez, Deputy Paul Roman, Deputy Danielle Kolves, Deputy Justin Gould, Deputy Brian Bomba, Deputy Sylvester Harris, Deputy Gregory Richter, Deputy Bill Hammer, Deputy Michael Doyle
Investigative Support Unit
Director Bruce Parker, Analyst Kristin Asbury, Analyst Melissa Knight, Agent Thomas Mulligan, Analsyt Pam Rios, Analyst Michelle Torre
Crime Scene Unit
Hope Spadafora, Lisa Saylor, Candace Matthews, Celia Mahler
Jail Complex, Evening "A" Squad
Lt Greg Robertson, Sgt Ronald Tomblin Jr., Sgt Alan Rainey, Sgt Edward Ansell, Sgt Robert Lough, Cpl Debra Brouillette, Cpl Jimmy Fielding, FTO James Culver, FTO Charles Banks, FTO Gary Lyons, FTO Tawyna Pack, FTO Richard Zimmerman, FTO Jesse Birch, CO Carol Bachynski, CO Carol Mitchell, CO Allen Drayton, CO Bertrand Dunlop, CO Freha Durrance, CO Stephanie Farrell, CO Joseph Larsson, CO Edward Medbery, CO Michelle Patrick, CO Sharonda Cannion, CO James Cochran, CO Kimberly Freeman, CO Brock Maggie, CO Anthony Maiorino, CO Rhonda Popelka, CO Jerome Arandia, CO Katie Bash, CO Ryan Futch, CO Cynthia Lewis, CO Judy McStay, CO Dalia Ned-Mills, CO Pamela Parker, CO George Reed, COT Dixie Corriveau, CT Jeanette Henry, CT Crystal Ankrum, CT Linda Hearns, CT Antonietta Loguidice, CT Sherry Miller, CT Shirlene Ananayo-Rawlik, CT Bredgetta Davis, CT Chris Cooper, CT Cindy Gamache, IIC Jennifer Moore, IIC Thomas Parrott, IIC Holly Hendricks
Jail Annex 2nd Shift
Sgt Rodney Richter, Cpl Preston McCabe, FTO John Kanzlemar, CO Marcu Rayburn, CO Robert Calloway, C/O David Buonocore, CO Steve Orndorff, CO Ed Milligan
South Precinct General Crimes Unit
Sergeant Clifton "Dan" Singleton, Agent Scott Molyneaux, Agent Kevin Roberts, Agent Randy Holliday, Agent Barbara Pill
SWAT
Canaveral Precinct
Jail Complex, Evening "B" Squad
Special Investigations Unit (3 Awards)
35 Years of Service Award
25 Years of Service Award
Deputy Dana Doucette
Gloria Brinson
Lieutenant Elizabeth Canada
Lieutenant Toni Merritt
Linda Dankowski
Sgt. Larry Cline
Lieutenant Mike Wong
20 Years of Service Award
Helen Phillips
Lana West
Marvin Davis
Lieutenant Mike Qualter
CO Brian Earles
Sgt. Robert Cullen
Sgt. Scott Armstrong
Commander Paul Chalko
Corporal Christopher Hendrix
Employee of the Month, Year 2005
January: Pam Rios
February: JoLynn Dempsey
March: Joanne Homer
April: Angelina Velten
May: Eryn Kelsey-Adkins
June: Pam Connor, Kelly Sattley & Julie Torpy
July: Alan Romeo
August: Glenda Crowson
September: Jennifer Moore
October: Orville Clayton
November: Sharon Hereford
December: Sara Arias
Corrections Officer of the Month, Year 2005
January: Field Training Officer Deborah Rainey
February: Sergeant Gregory Buttrick
March: Moises Quinones-Mat
April: Corporal Wayne Doler
May: Corporal Kelly Smith
June: Michael Brickner
July: Heidi Crim
August: Veronica Shinholster
September: Corporal Tommie Lewis
October: Glenn Stout
November: Corporal Bobby Gardner
December: Shelly Senter
Deputy of the Month, Year 2005
January: Corporal Brian Adams, Deputy Barrett Bright, Deputy Shannon Griffin
February: Deputy Jerry Shealy, Deputy Charles Weaver
March: Field Training Officer Robert Cline
April: Corporal Ray Seigel, Field Training Officer Mike Bieri
May: Deputy Mike Helms
June: Agent Jackie Hearon
July: Sergeant Ronnie Crane, Coporal Terry Bartnik
August: Deputy Todd Beuer, Deputy Craig Carson
September: Coporal Geri Barringer
October: Field Training Officer Victor Velez, Deputy Harry Cieszynski
November: Corporal Ray Seigel, Deputy Mike Helms
December: Corporal Ross Torquato